http://nirethak.livejournal.com/151901.html
I thought perhaps I ought to do a follow up, it's a little more than a year later, but so far 2013's been off to a rocky start.
Ugh, the lighting is terrible. Sorry about that.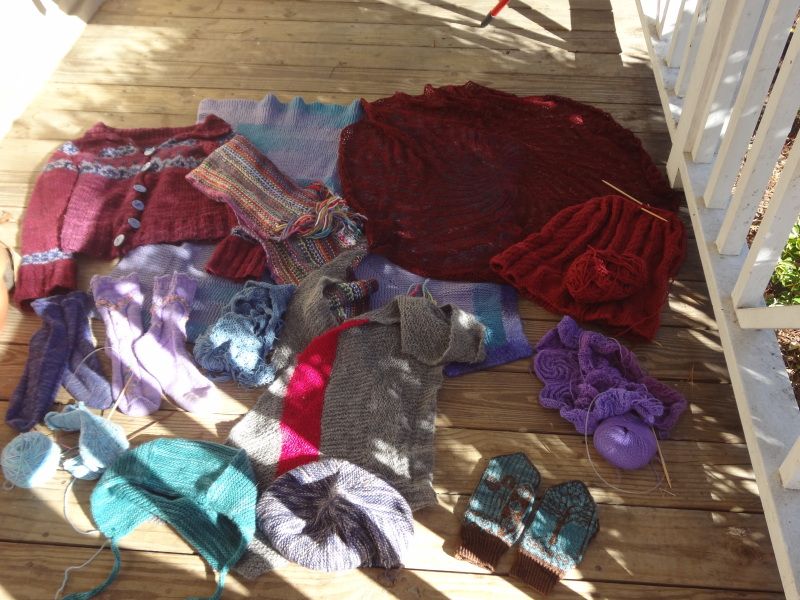 Top, from left to right:
Fair Isle sweater that took a long time because it was so annoying to knit: DONE. And one of my favorite sweaters! Except, the directions said to knit the collar for 7" and I was like "Pfft." and made it rather shorter, so it tends to flip up.
A very nice sofa blanket, DONE.
Queen Anne's Lace Shawl, I think one of the most beautiful things I've ever knit, in my opinion. DONE and proud of it!
Red cabled sweater -- not only NOT DONE, no progress made on it.
Next row!
OK, so I had a nice pair of purple socks but one got lost at the laundramat, never to return. So I got more yarn and made a new one, but the yarn was a different dye lot and I added a gusset, and it didn't match the original sock. So I just went ahead and made a whole new pair of socks. And I like them very much. DONE except I still have a lonely sock.
A very elaborate pair of socks with lace and twisted stitches and embroidery.
http://www.ravelry.com/patterns/library/bridge-of-roses
After finishing them I didn't think I would ever wear them because of all the work involved, but really, why not? So I do wear them. DONE.
A shawl I was test-crocheting for a friend, but she is going to revise the pattern substantially and frankly, I kind of suck at crochet, so I think I might rip it out and use the yarn for something else. NOT DONE, and might not ever get done.
A shawl I test knit for another friend! I got bored with the gray yarn so I put that random magenta stripe in it and it's kind of ugly, but I wear the shawl all the time anyway. DONE.
Swirl shawl: soooo boring to knit. Some progress has been made, but it's NOT DONE.
Bottom row!
Handwarmers -- I made up the pattern and need to figure out where I wrote it down so I can make the second one. NOT DONE
A silly hat -- DONE
A beret that is NOT DONE even though all it needs is a brim and really I need to get on that already.
Mittens that went through a great deal of sadness and strife but finally are finished and rather pretty, in my opinion. DONE.
Not shown but also completed: A pair of red socks that is in the laundry hamper, a purple hat that was sent to my Mother in Law, a scarf that I left at my office, and a felt snowman that was put away with the other Christmas decorations.
Even though I still have quite a few unfinished projects (including a few others I have started in the meantime, I do feel quite a sense of relief!
Remember this post? In which I collected all my unfinished knitting projects and put them out on my porch in a great Heap of Shame?