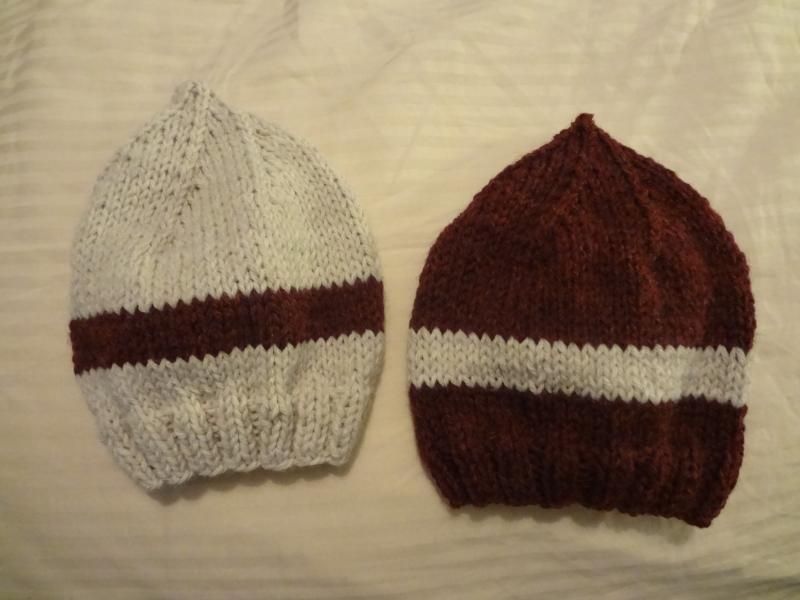 Pattern:
Cast on 60 stitches with main color on a size 7 needle. Do not join (you'll seam it up, later).
Knit 7 rows in k2, p2 ribbing.
Knit 5 more rows with main color in stockinette stitch (i.e. knit the right side rows, purl the wrong side ones).
Switch to contrast color and knit 5 more rows in stockinette.
Return to main color and knit 9 rows Stockinette.
On next right side row, *knit 8, knit 2 together* all the way across (HINT: On the last repeat, I instead knit to the last 3 stitches, then knit 2 together then knit 1, because to me this makes it easier to seam. I don't think it makes a big difference, however).
On next wrong side row and all further wrong side rows, purl.
Next right side row, *knit 7, knit 2 together*
Continue in this way, knitting 1 fewer stitch between the k2togs until until 6 stitches remain. Purl back, and on the following row, k2tog 3 x, then break yarn and draw it through those stitches. Seam up hat with mattress stich, and you are done! If making for twins, make 2, reversing the main color and contrast color.
Otherwise, things are much the same. I am HUGELY grateful to everyone who donated money or bought yarn, it has helped a lot with a big unexpected bill. Bunny is doing great and recovering well from surgery, although she seemed a little traumatized at first. Selling on Ebay wasn't hugely successful but oh well, live and learn, right?
One of my coworkers is expecting twins, and I wanted to make something cute that would go together but not be too matchy-matchy, so I improvised this pattern. I think it's a little larger than newborn size (at least, I hope so), but I figure babies always need hats, right? They're made out of Lion Brand Wool-Ease so they should be warm but also easily washable.
So, with all that said, if you should feel like helping out, I have a yarn destash over on Ravelry if you like such things:
http://www.ravelry.com/people/Nirethak/stash/trade
And a paypal button if you like such things:
And I'm going to try selling some very random items on E-bay too, but I haven't quite figured that out yet.
ETA: Here's the link to my ebay seller page. It is very, very random:
http://www.ebay.com/sch/katherineruiz/m.html?_nkw=&_armrs=1&_from=&_ipg=25&_trksid=p3692
Here is Bunny, she says thank you. She is recovering amazingly well from surgery and no longer limping, even though she had a toe amputated :( The stitches don't seem to be bothering her any and she is still cute even with them. Maybe a little more dangerous looking now.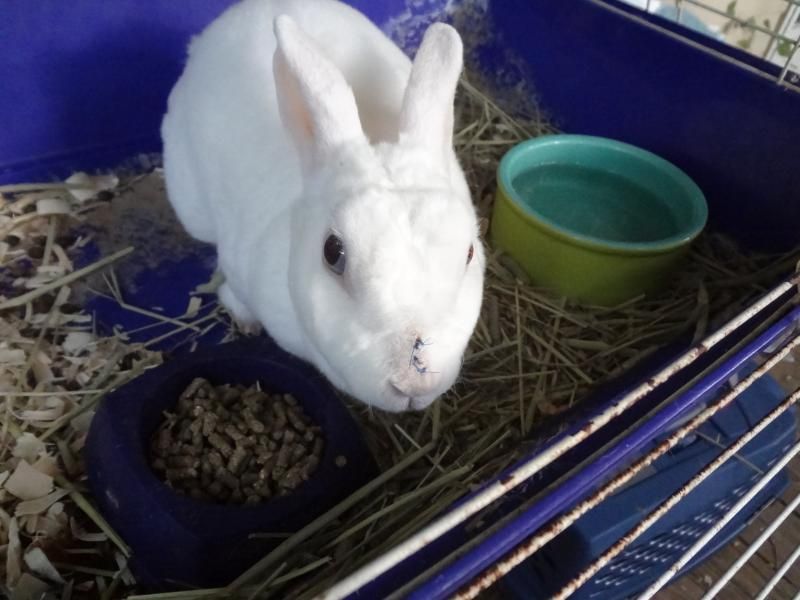 I feel like such a grifter! But my Bunny had to have emergency surgery to remove some carcinomas. You probably didn't know this, because I haven't told anybody (although people around me are starting to notice), but I'm expecting a baby in January (knock wood) so I'm freaking out about big vet bills since I was hoping to be debt-free before taking unpaid maternity leave.
For example, what do you do in Durham with a trash-strewn, poison-ivy infested vacant lot? You clean up the trash, get your landscaper neighbor to eradicate the poison ivy, and you create: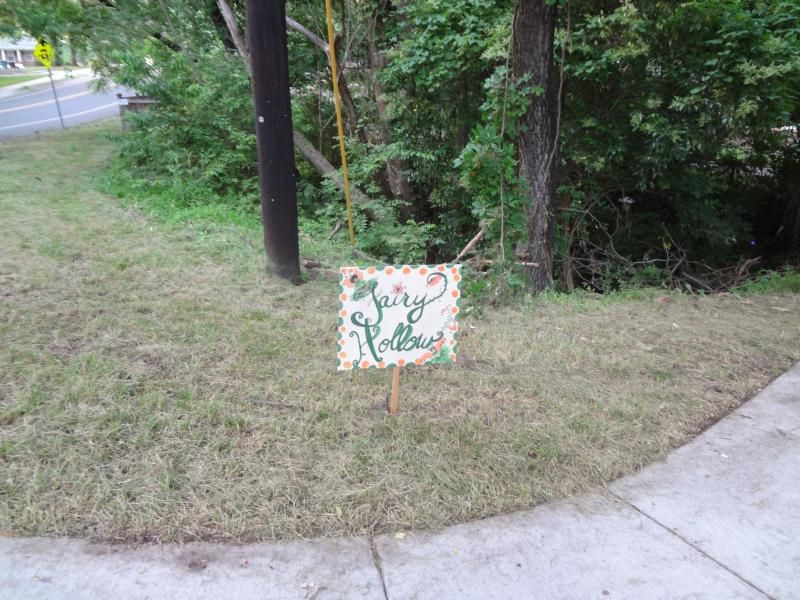 Rebecca got an email inviting her to make a fairy house to contribute, and you know we were all over that.
These are Rebecca's contributions, she is an amazingly talented crafter: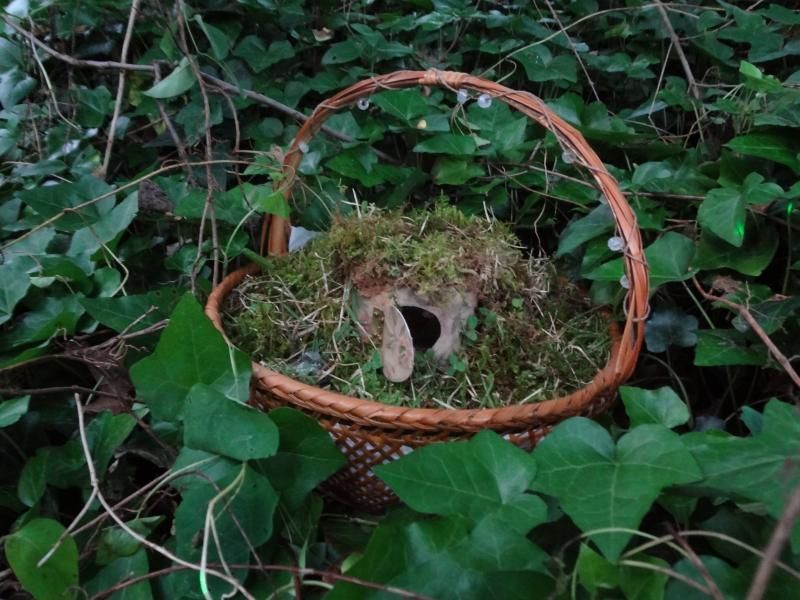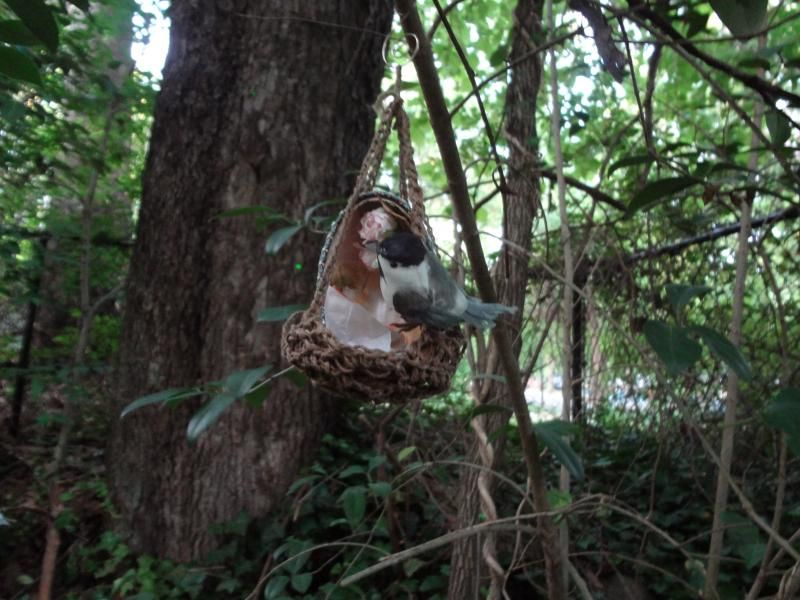 My crafting mojo's been a little off lately, so I made a popsicle-stick lean to:
This one is cuter, mostly because Rebecca helped me with it: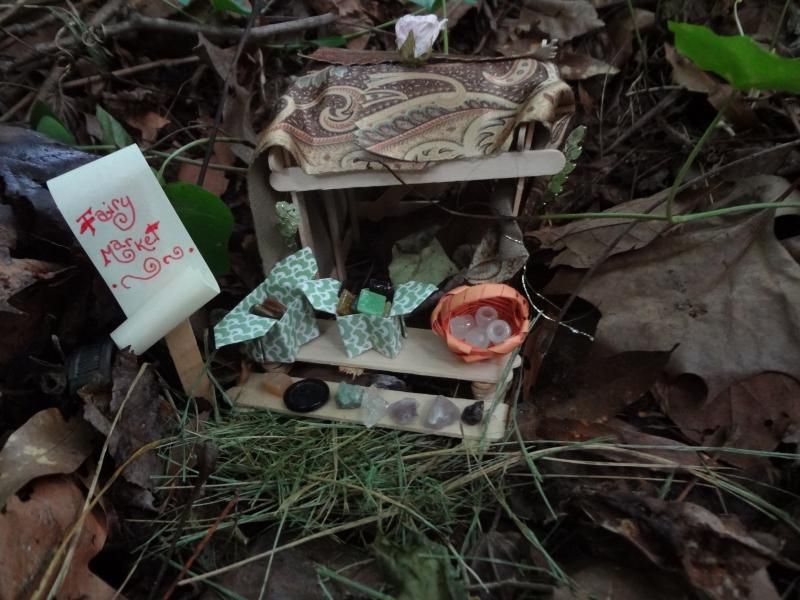 Here is the entrance to Fairy Hollow, and the organizer (sorry, I totally forgot your name!)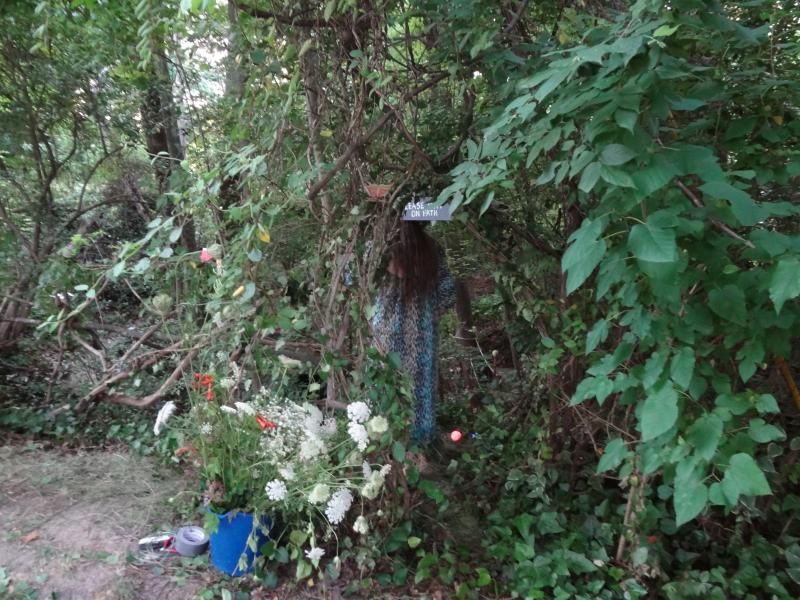 She made these amazing little mushroom houses!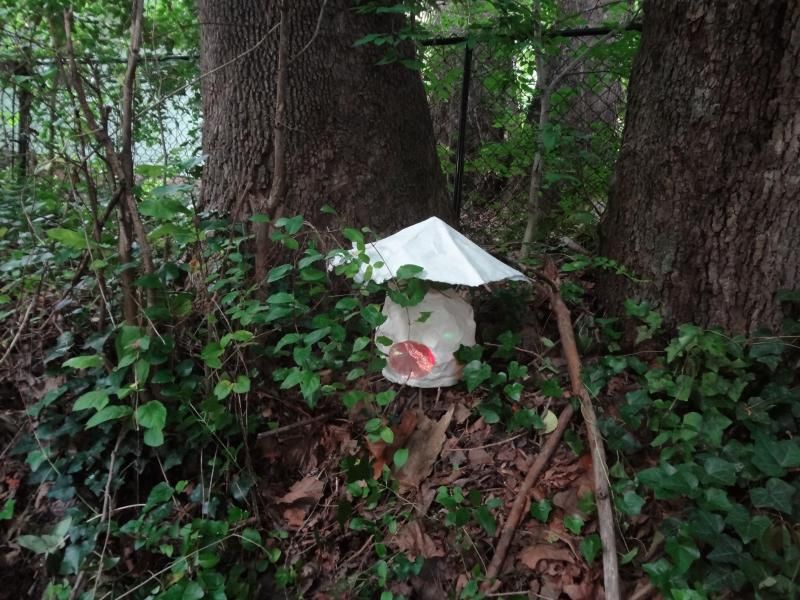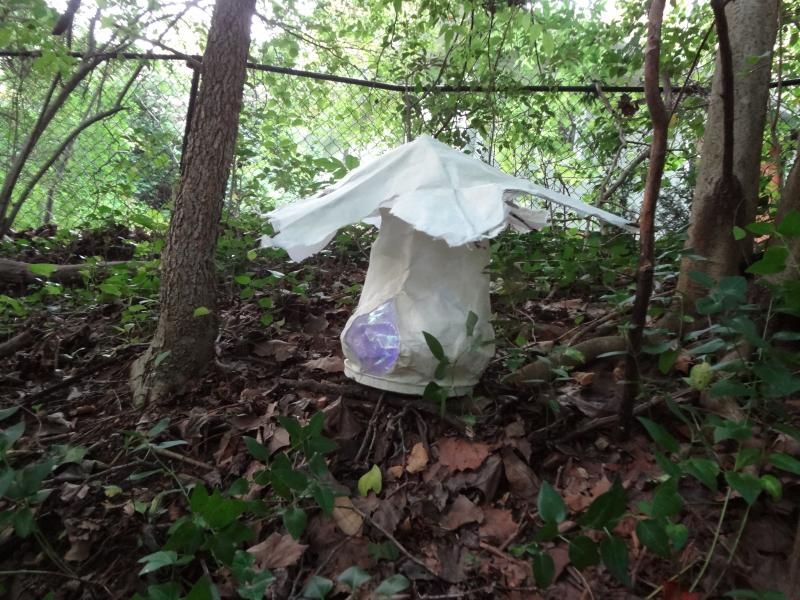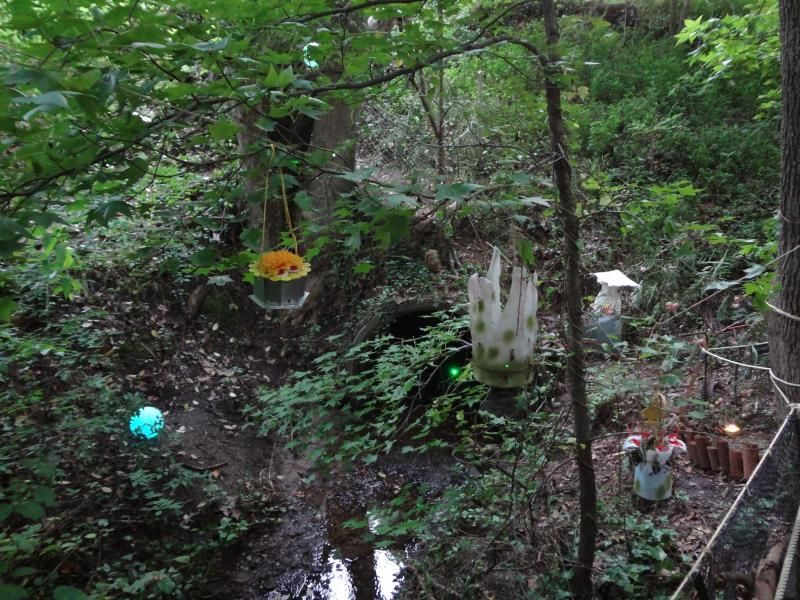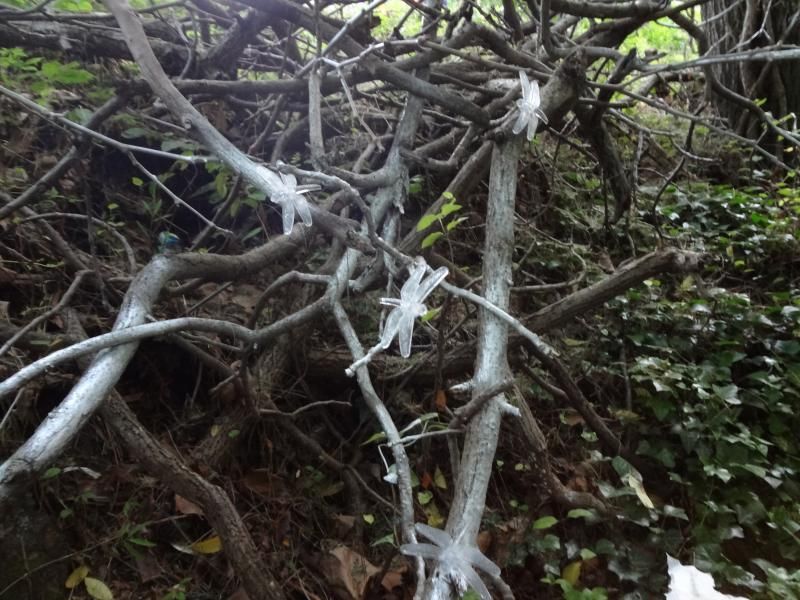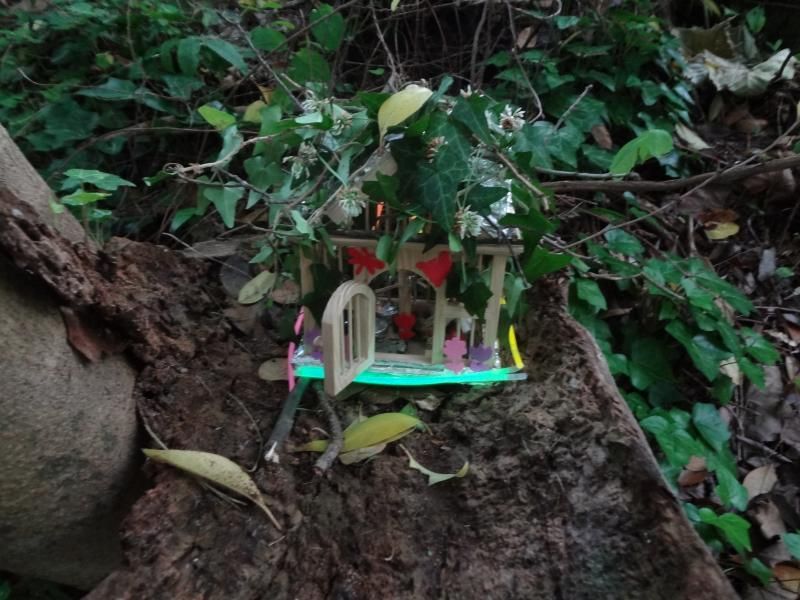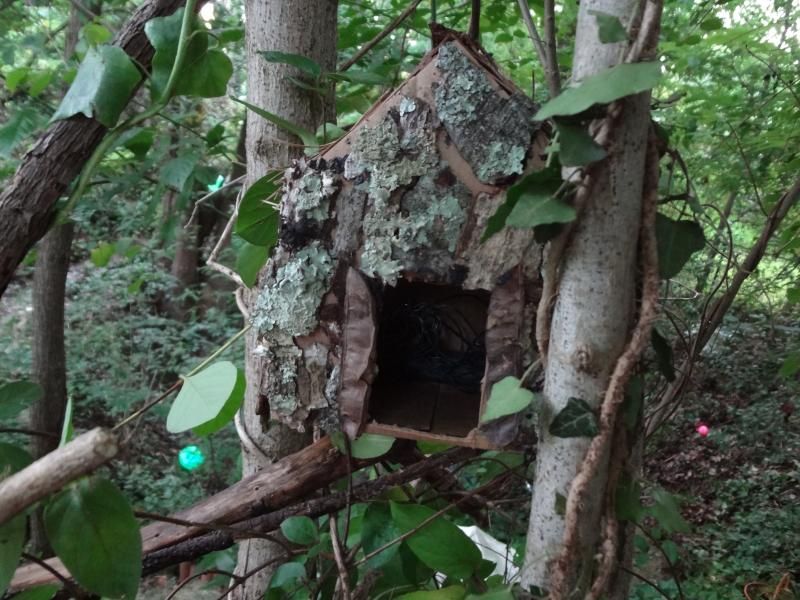 I told Rebecca she looked like her mom in this photo: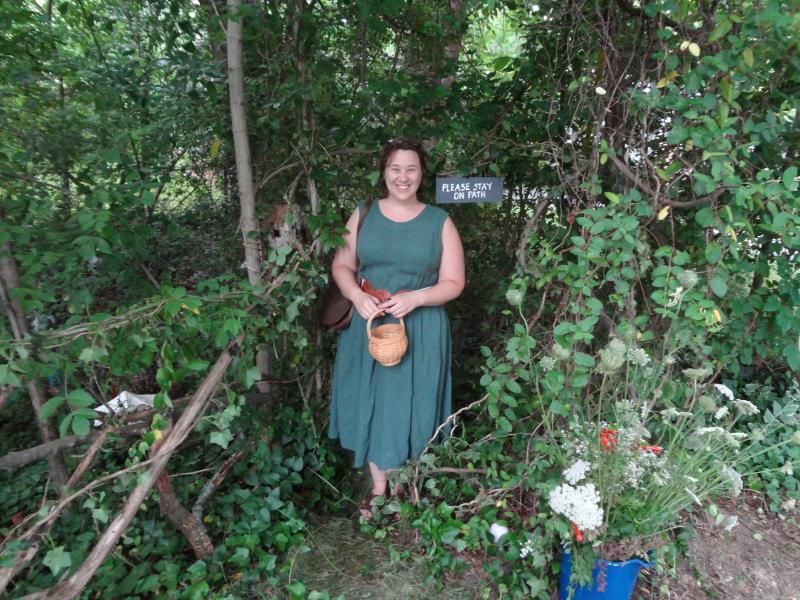 So then she looked EVEN MORE like her mom: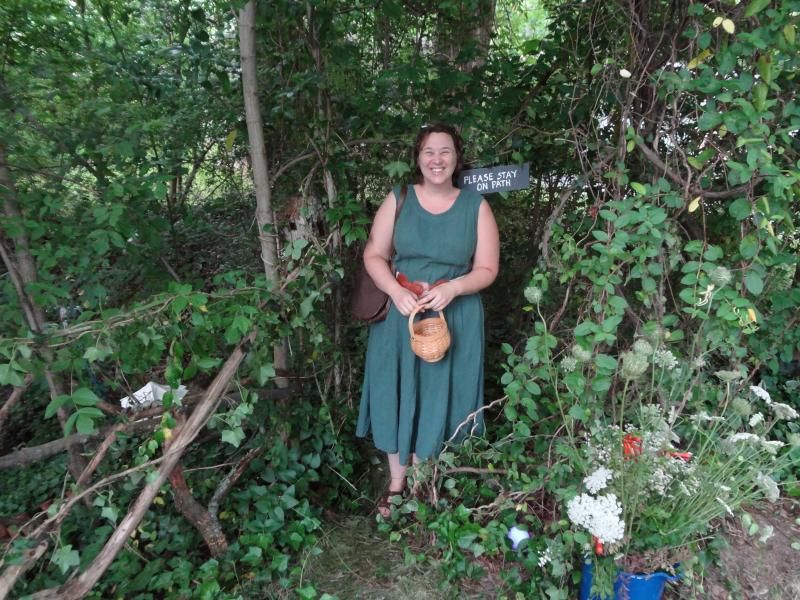 Enjoying the magic: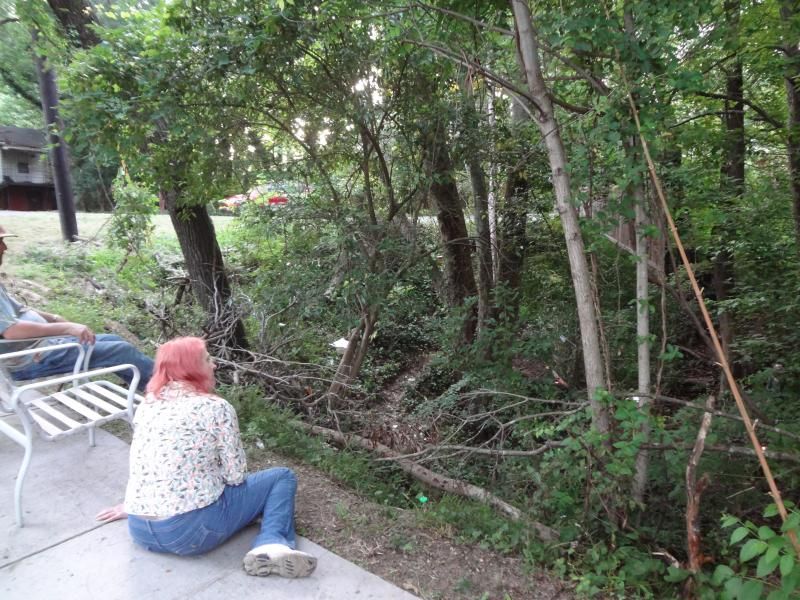 And here come some fairies!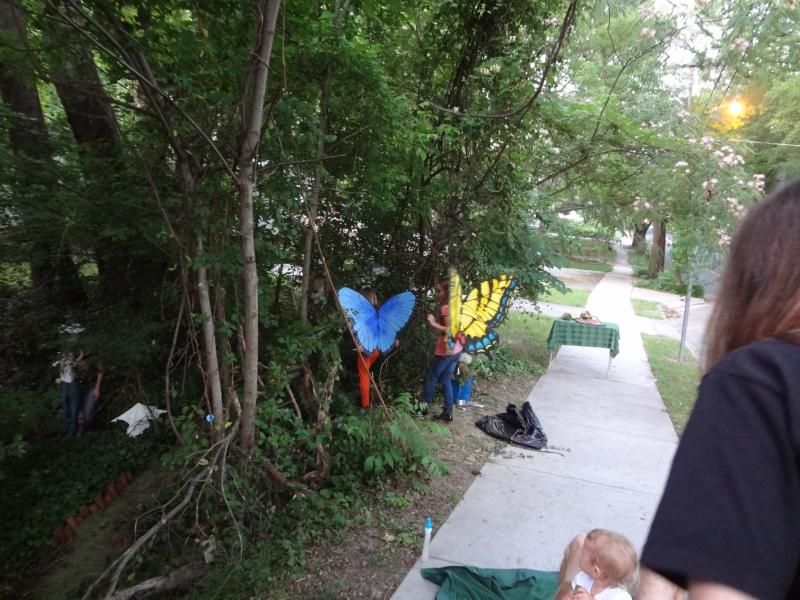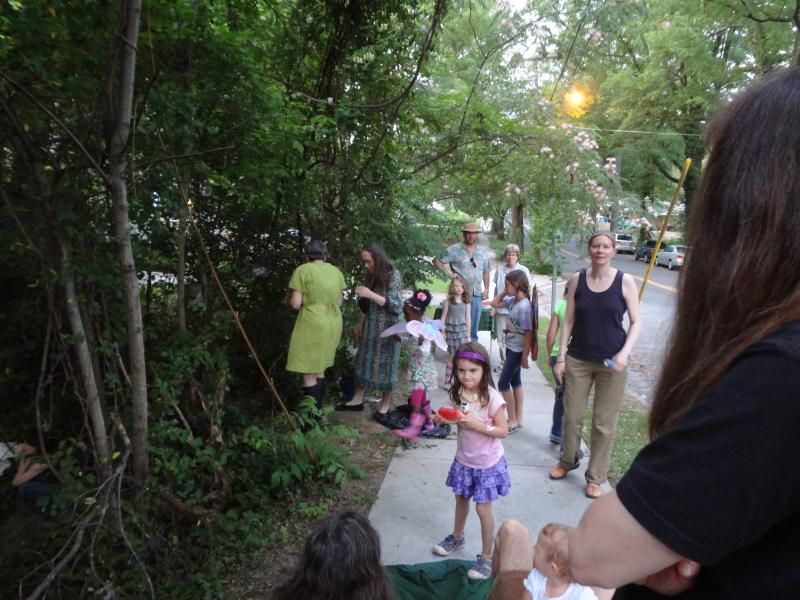 What else have I been up to?
I documented my shameful fiber stash (this isn't all of it, just all of it that lives in my china cabinet, which I do really need for other things)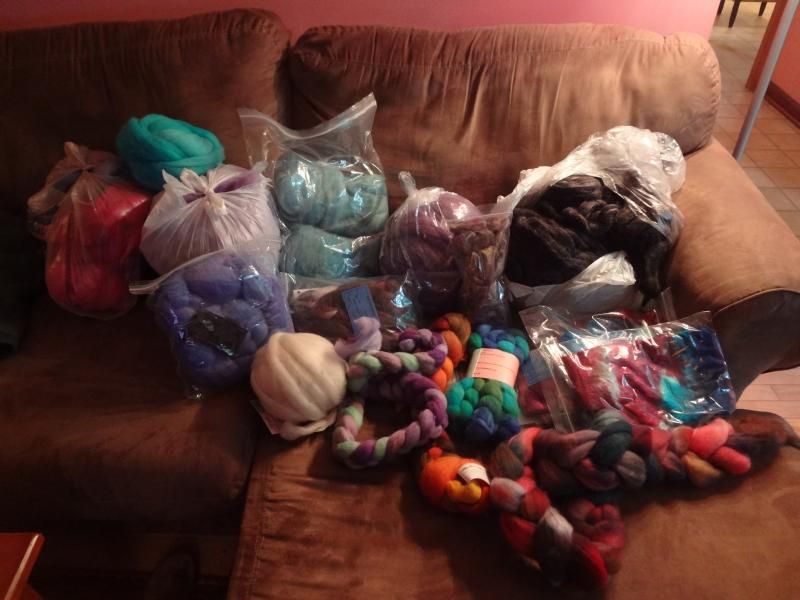 I got rid of a good deal of it at Maker's Faire:
http://makezine.com/2013/06/17/an-incredible-visual-tour-of-the-4th-annual-maker-faire-north-carolina/
I keep making yarn: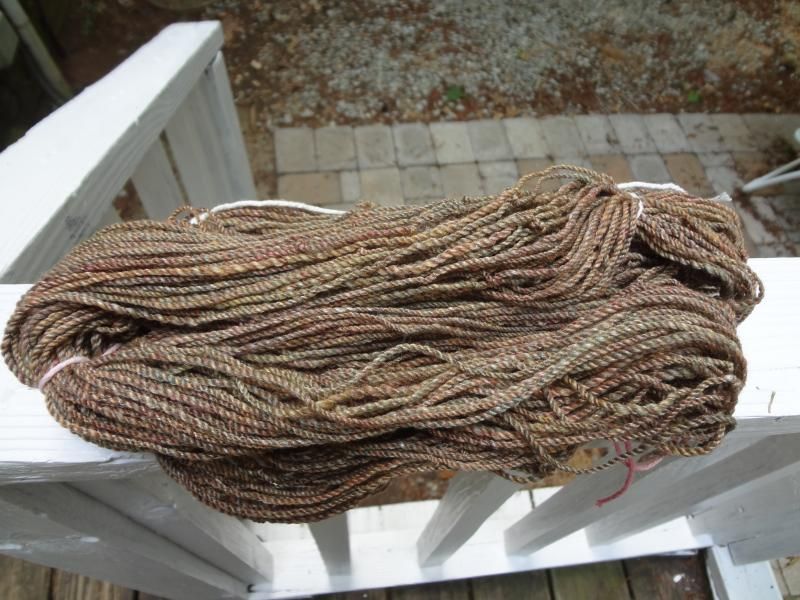 Today I did some yardwork, and Bunny benefited from this activity: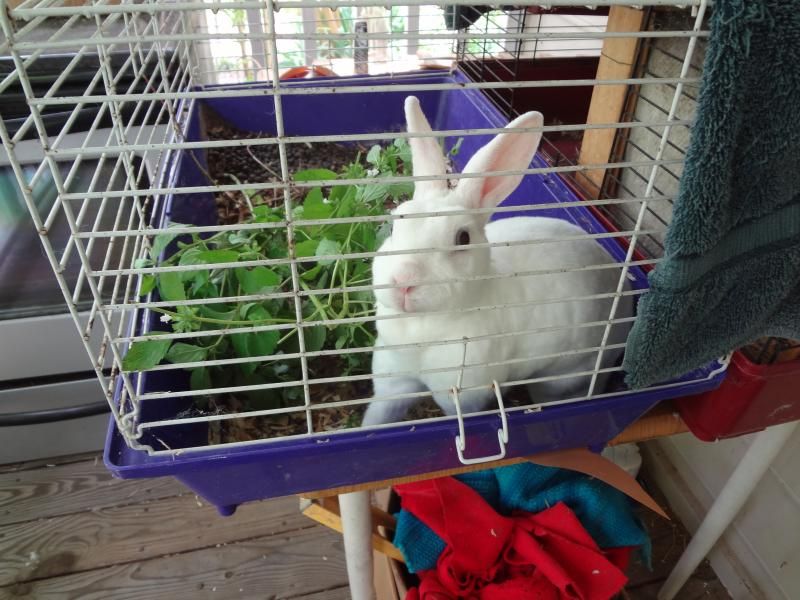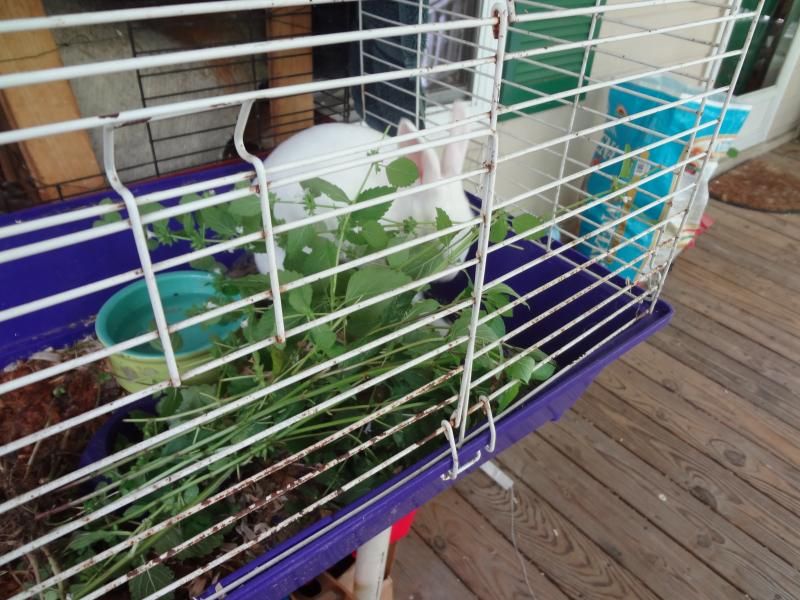 If there is ever a contest for "most whimsical town in the Southeast", I'm pretty sure that Durham would win.
The first few wildflowers we saw were fairly ordinary, and easy to overlook because they are pretty common. But they still are pretty! Bluet, violet, green and gold, trout lilies.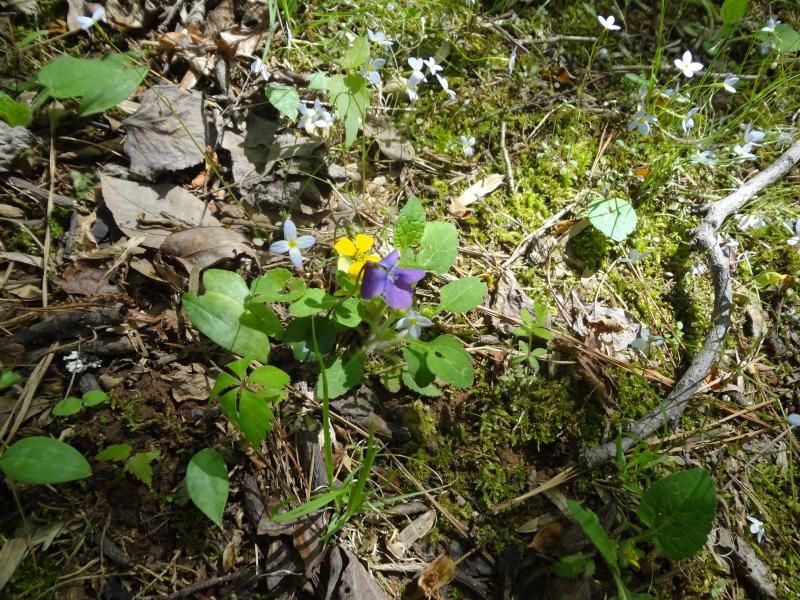 Rattlesnake orchid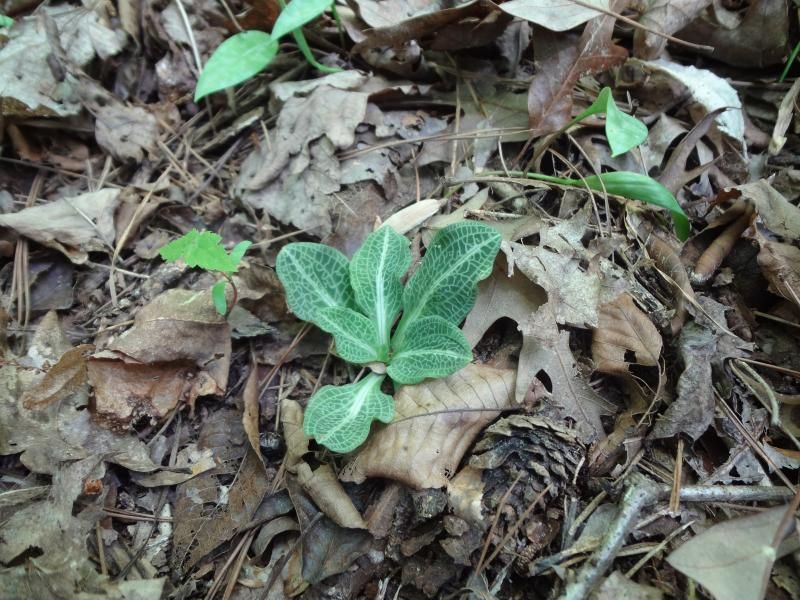 Fairy wand or Devil's Bit (Chamaelirium luteum)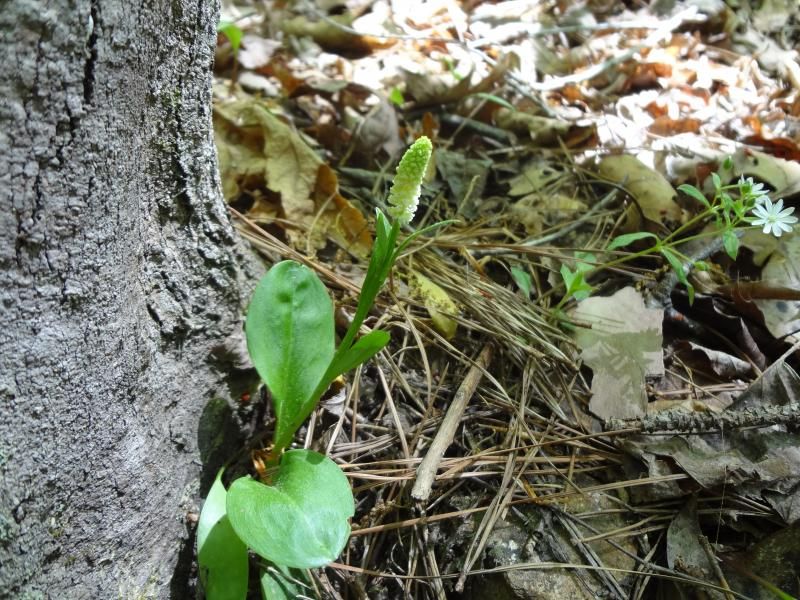 Horse Chestnuts are blooming kind of late. It's been a weird spring. One of the leaves has a sad face.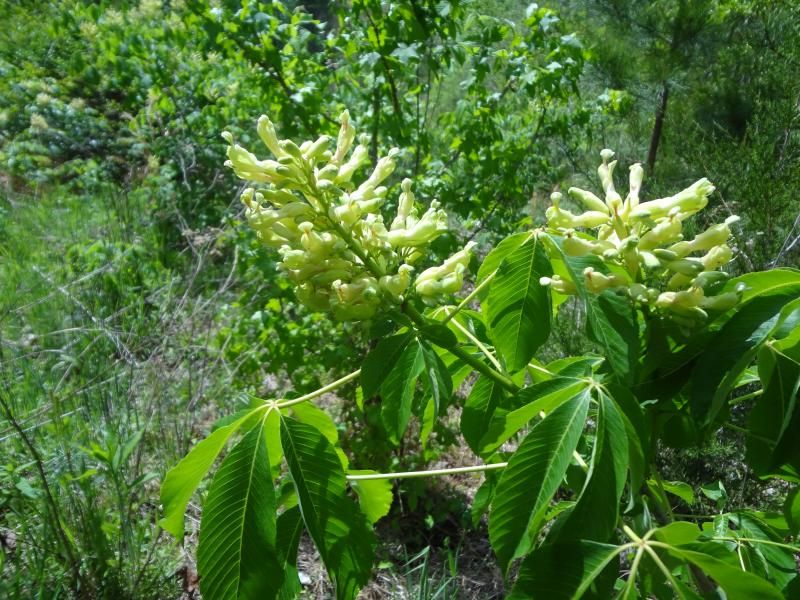 Then we went down by the old dam. This contained the city of Durham's water supply until 1927.
Someone explained this cool tower thing to me, it was like a sluice and water went up in it and really I have no idea what it was for. It now has a lovely and luxuriant growth of poison ivy all over it.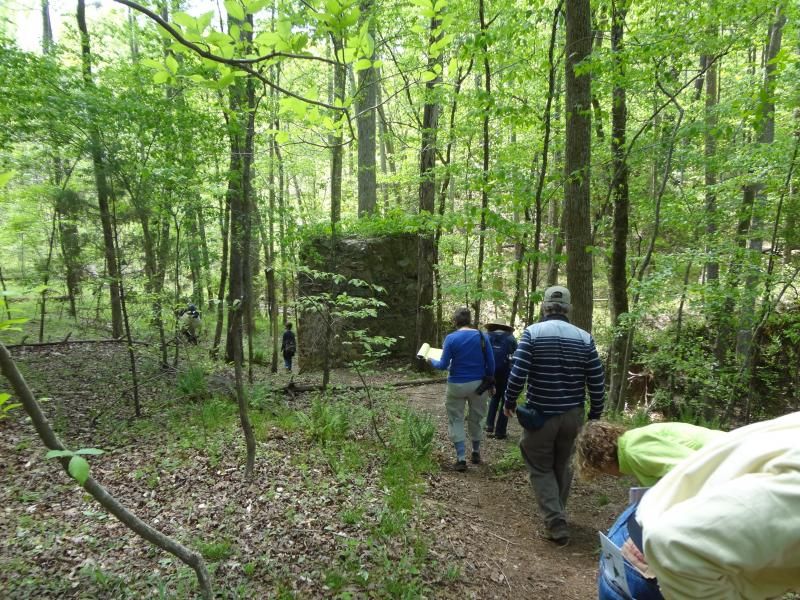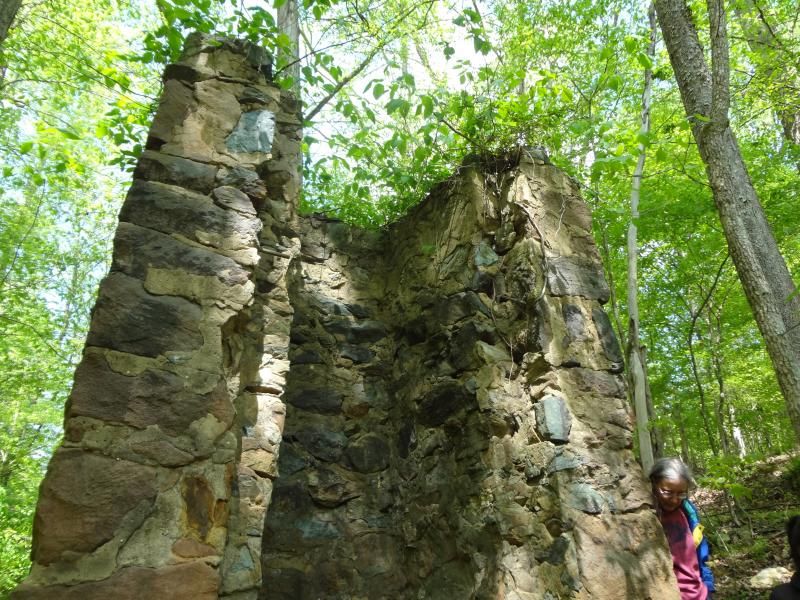 There were lots of spring beauties, sweet cicely, and rather unspectacular native buttercups and forget-me-nots growing around its base.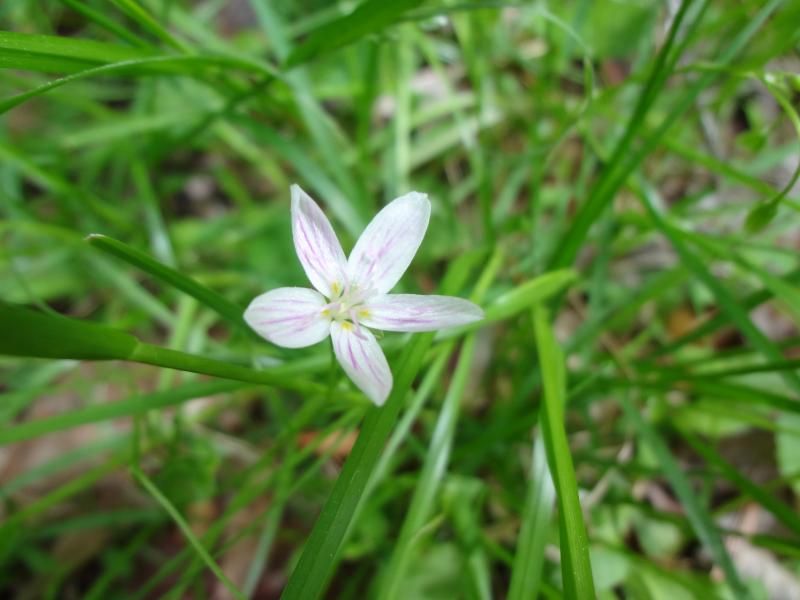 Further up the path was this cool thing which supposedly has some valves down in its depths.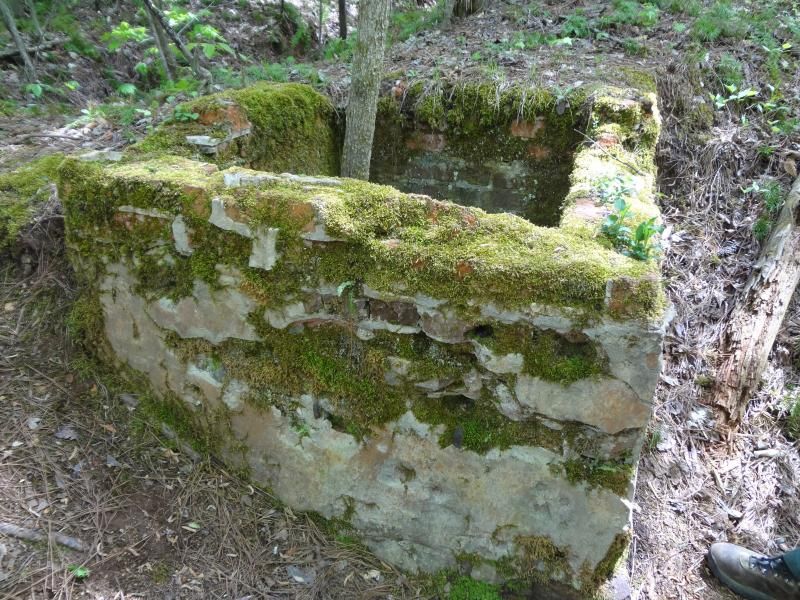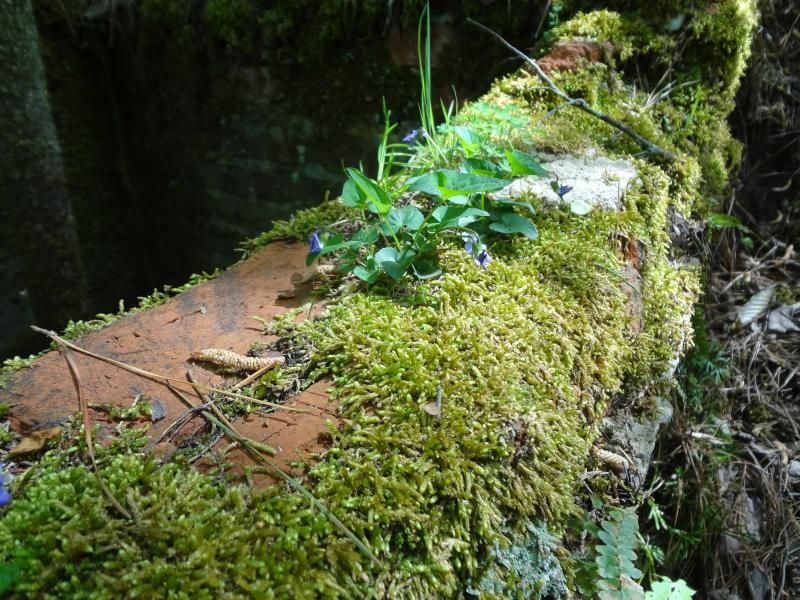 Here's Asarum candensis in bloom; none of the other wild gingers were blooming, which is odd but presumably because again, weird spring.
I like to take photos of curly ferns. I took a lot but am restraining myself from posting them all.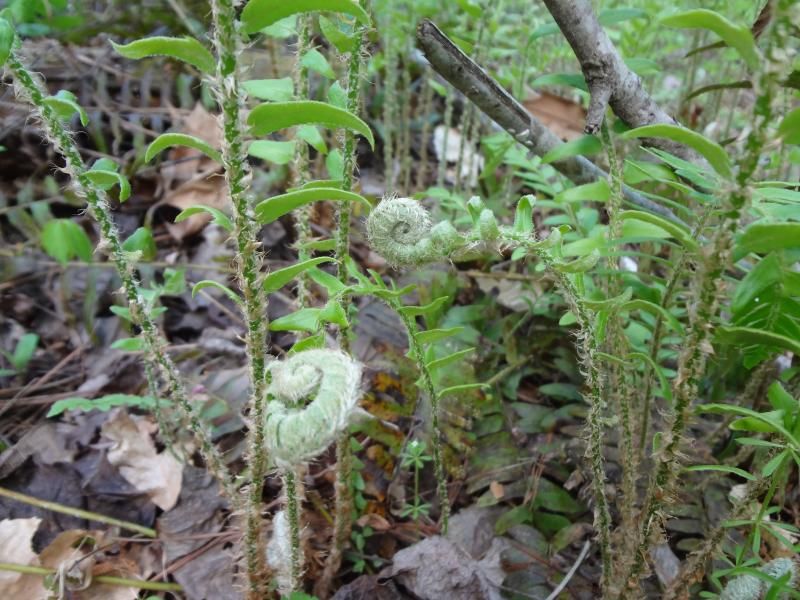 ferns, and lycopodium, and mosses. Pretty cool.
Trout lilies. Just missed the bloom. One of them has a little fruit, though!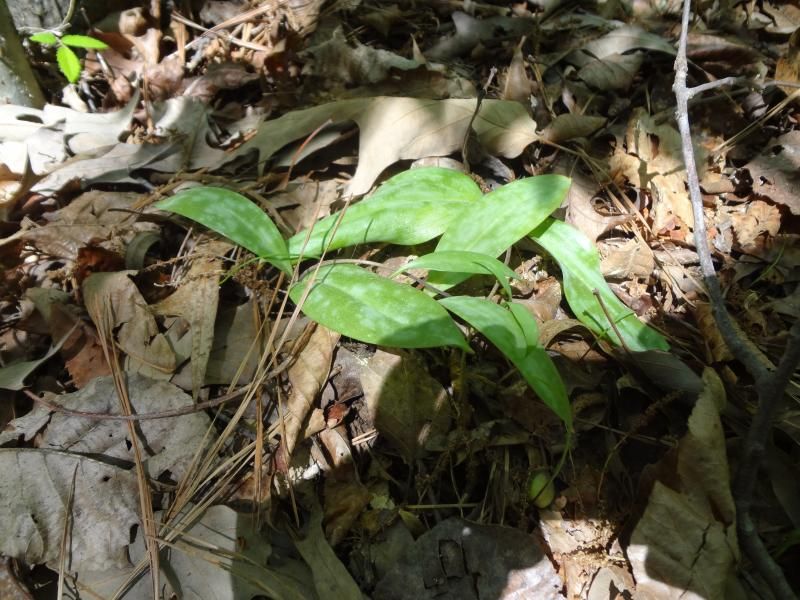 Jack in the pulpit! Super exciting!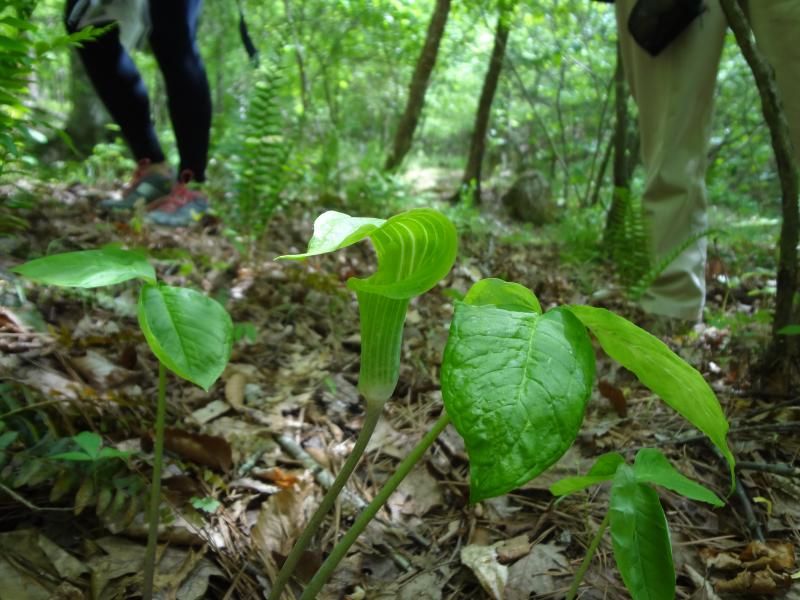 And then HOLY CRAP we walked down to a little creek and saw these unbelievable things that I would never have thought were native wild flowers. I expect my wildflowers to be sort of small and not terribly showy. I have never before seen wild Atamasco lilies and they are gorgeous!
(I didn't pick it, I'm just holding the flower up, because they're kinda floppy)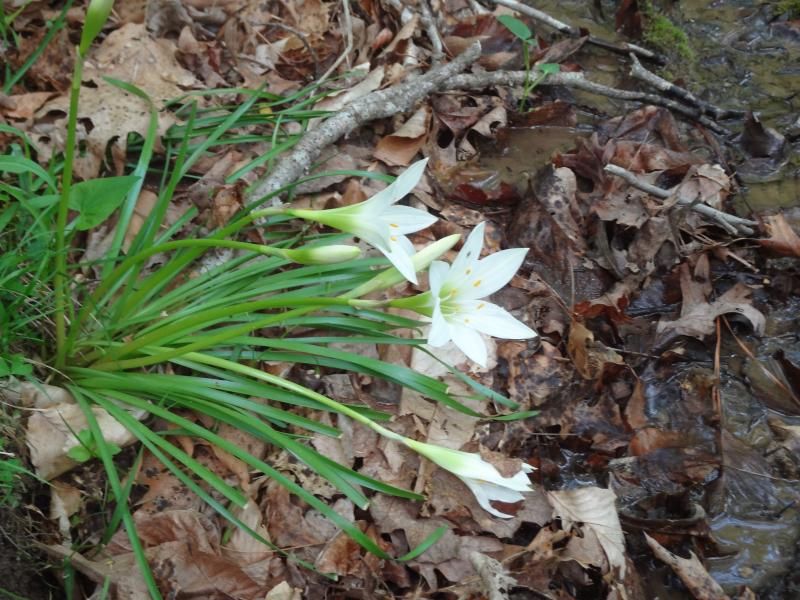 And then I found another jack in the pulpit that was ALSO really cool, maybe even cooler than the first one because it has purple on it and we all know how I feel about purple.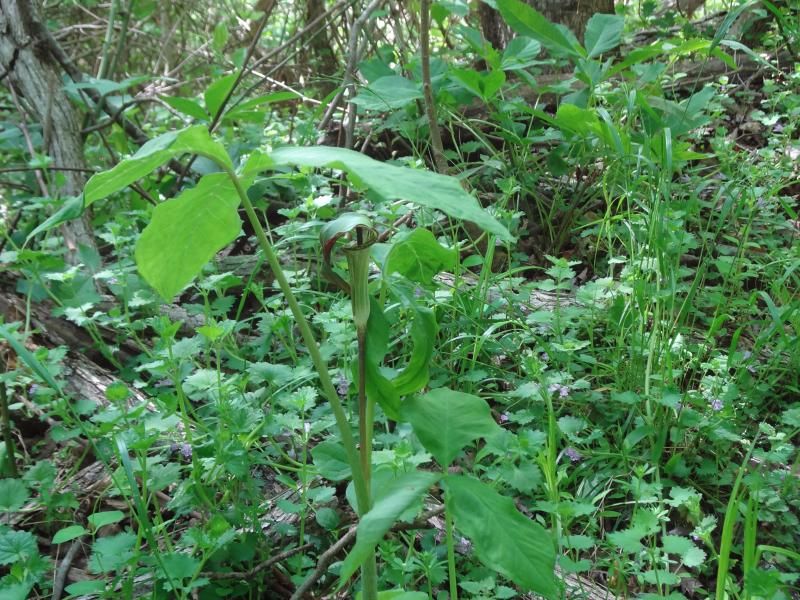 native buttercups that are actually kind of showy: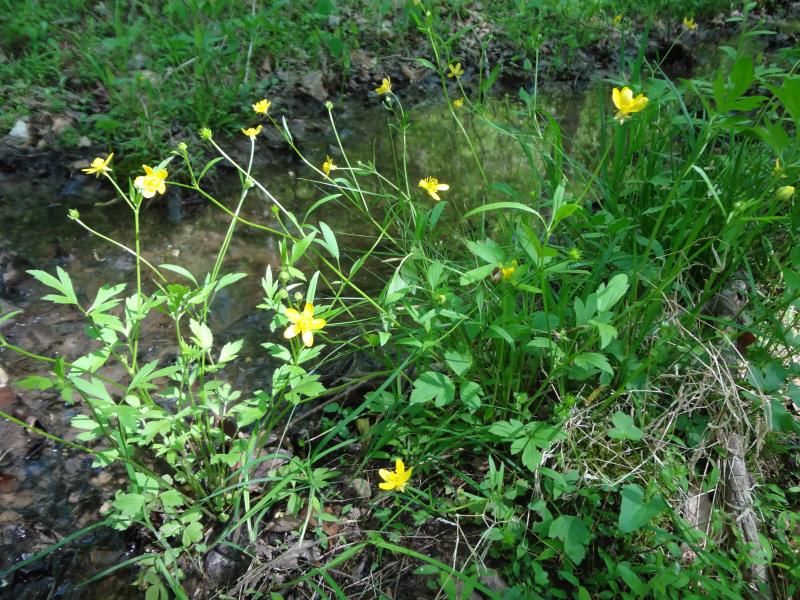 Pinkster azalea which planted itsself in a very scenic spot; well done, azalea: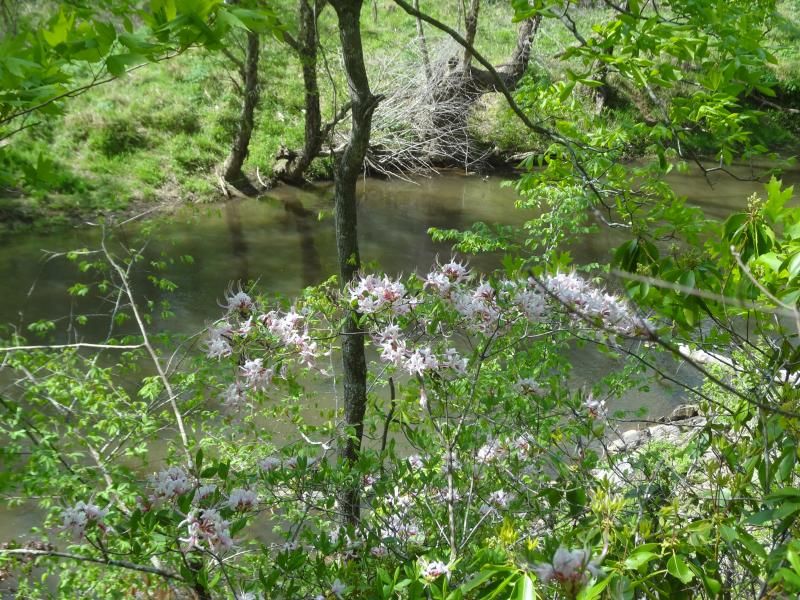 the picturesque Eno river: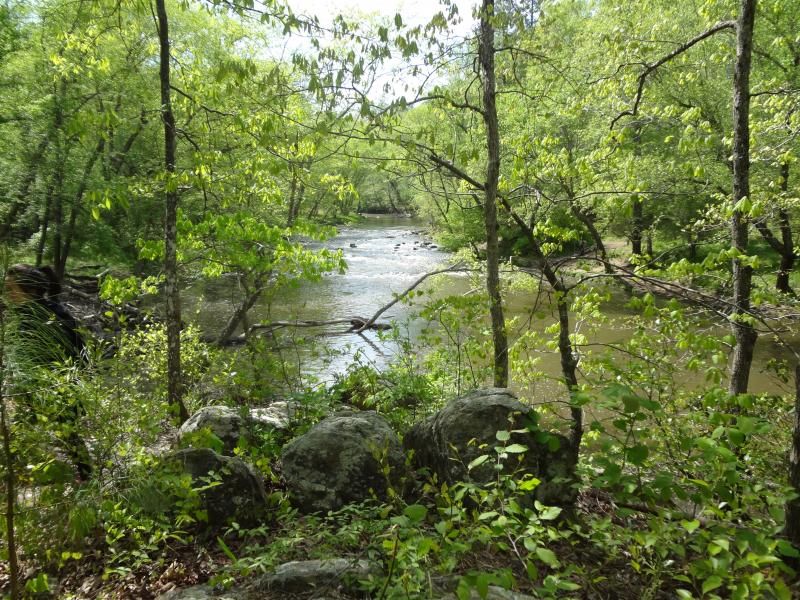 The walls of the old pump station (and some random kid)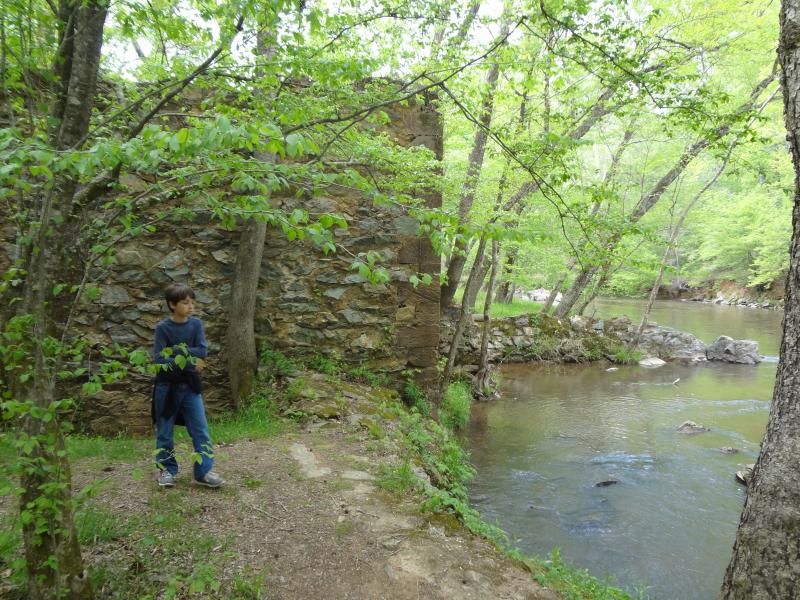 The scenic interior of the old pump station: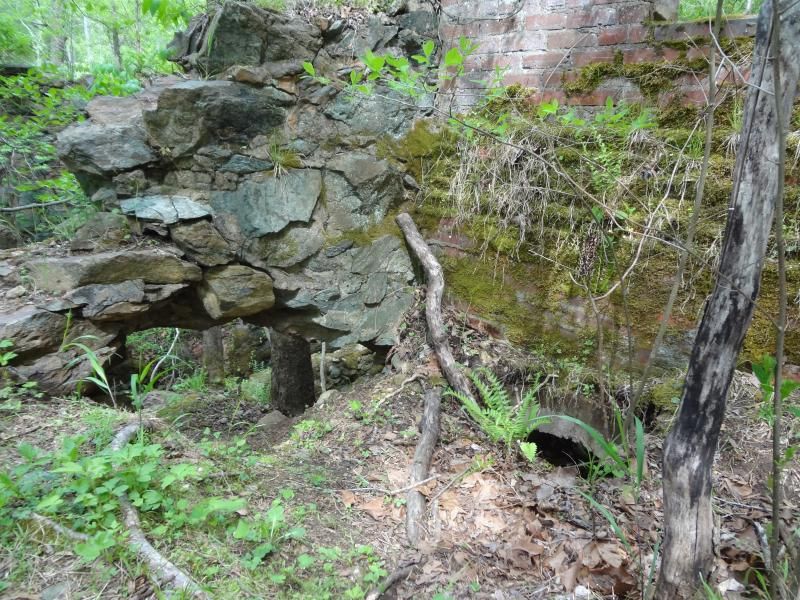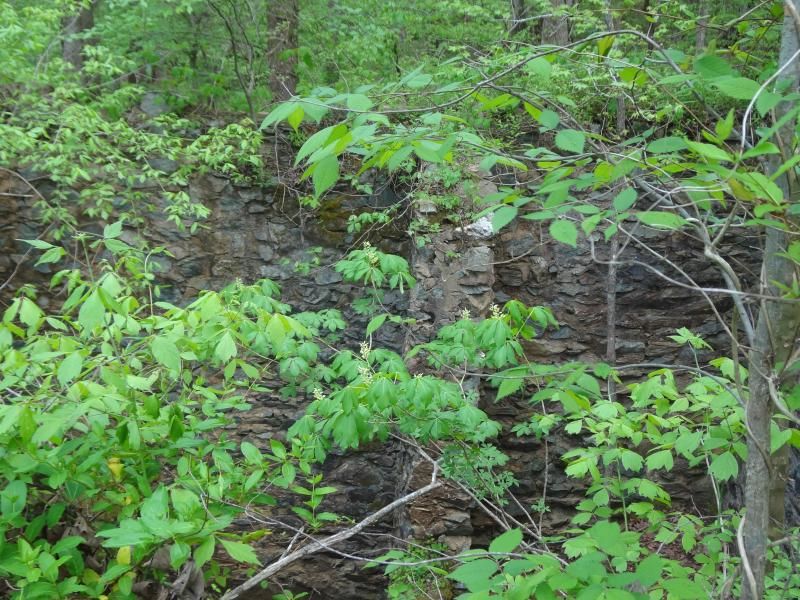 Not that you can really see it, but the pebbles embedded in the door step here say "1907"
I'm sure that a pipe went through here but I like to think that the station had charming round windows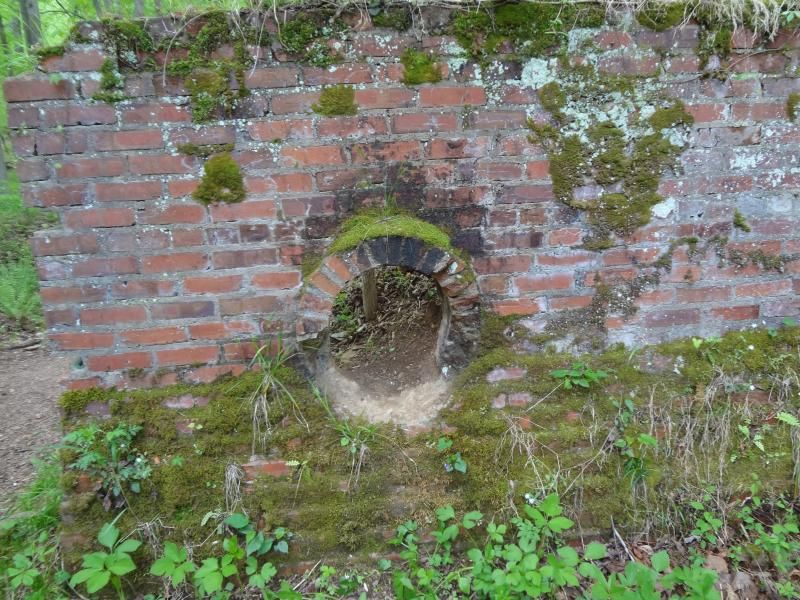 Going back up the path, more azaleas (and supposedly somebody found some cancerroot but I didn't see it and I even went back and looked for it a few days later )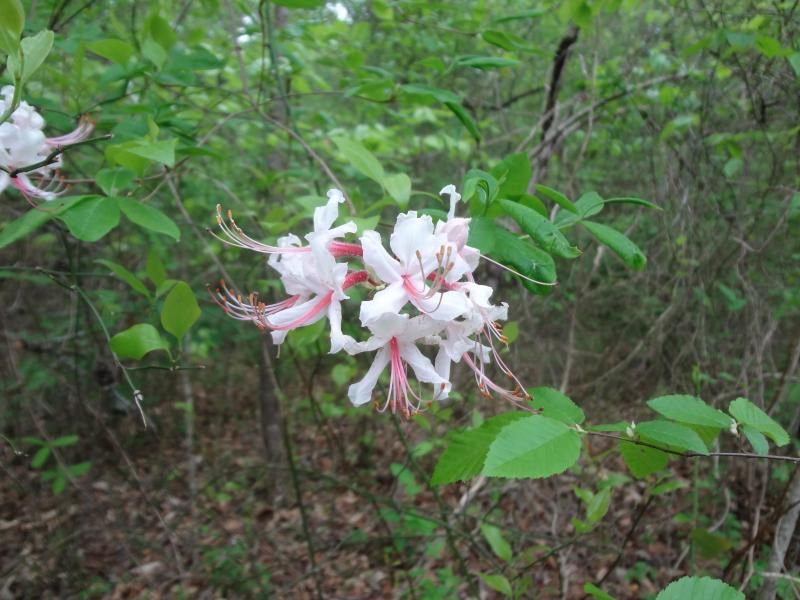 Now we're on the other side of the dam: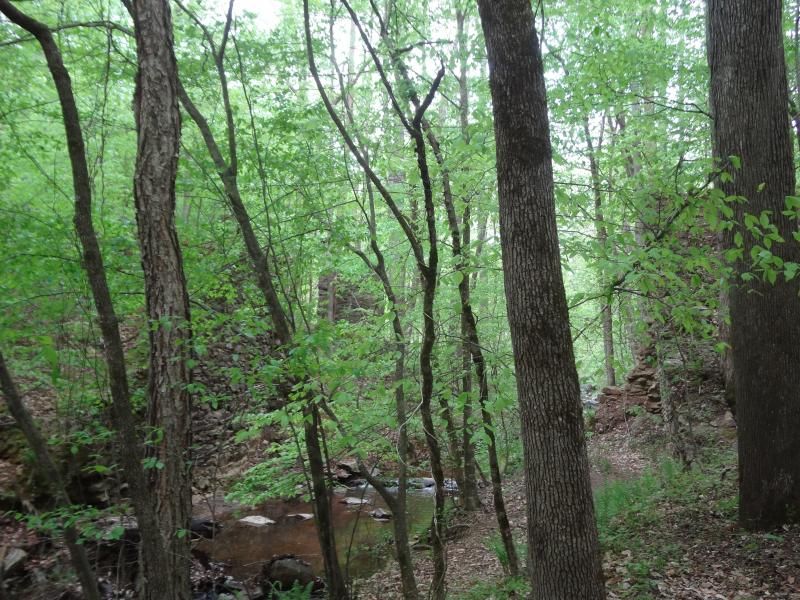 Overflow pond and spillway: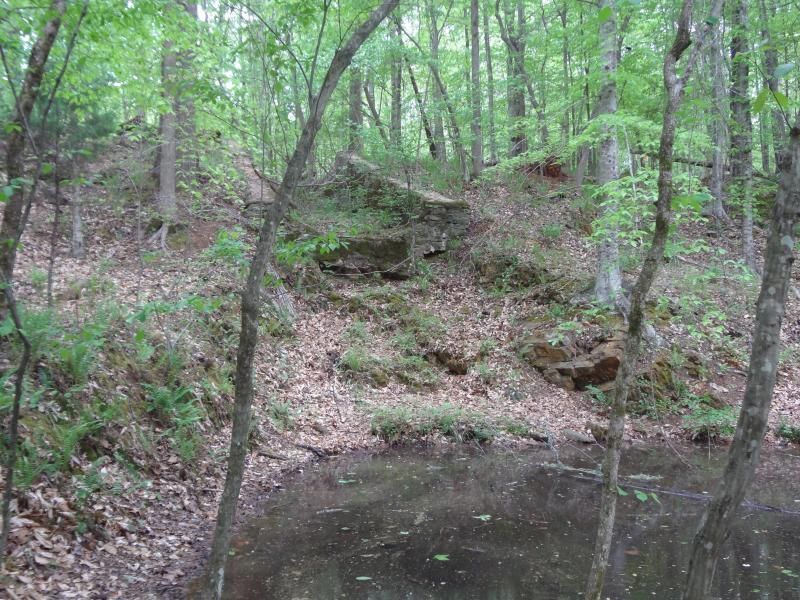 Southern lady fern:
Now we're going off the path to look for something really cool!
Here's some tiarella but that's not it: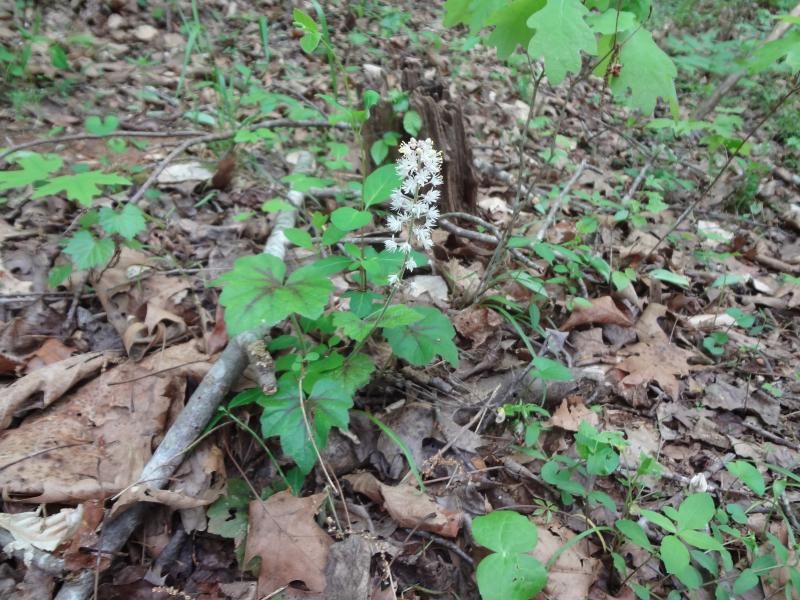 I completely forgot what this is, if you know, tell me, OK?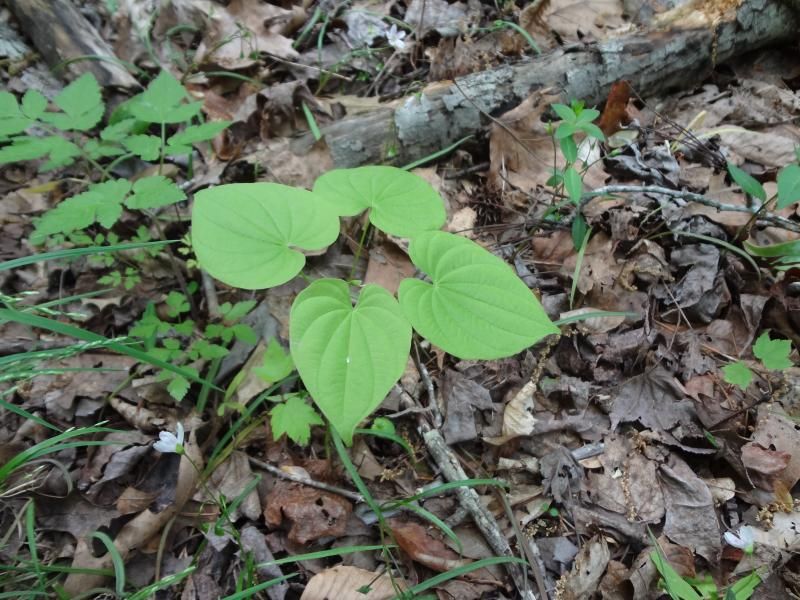 Thalictrum: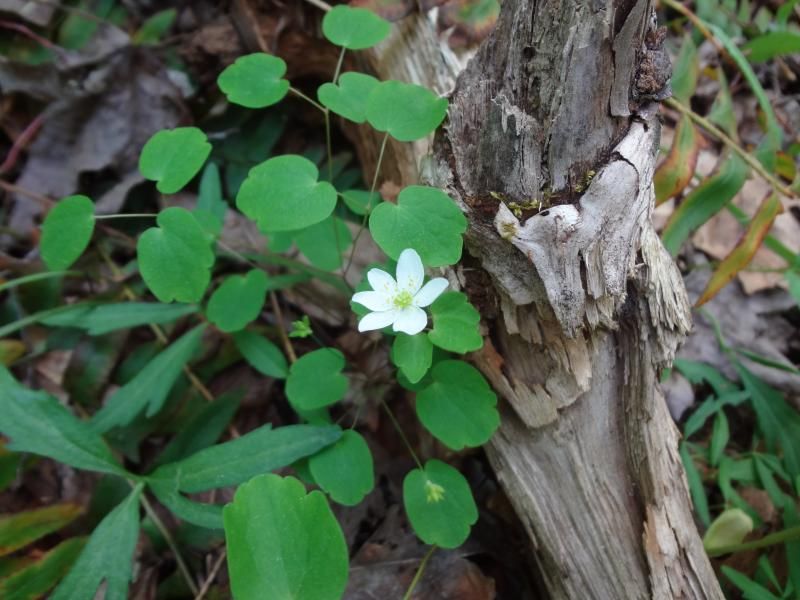 Native chickweed and some kind of hepatica: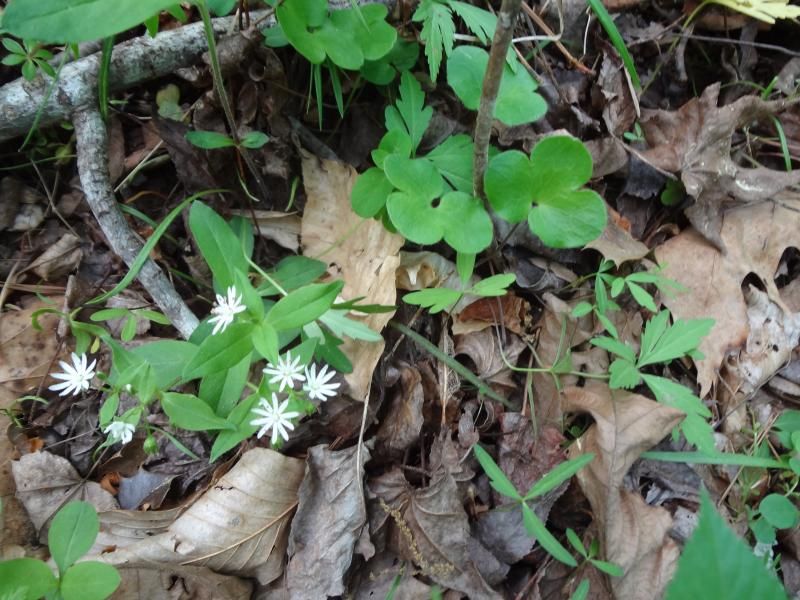 OMG! THERE IT IS!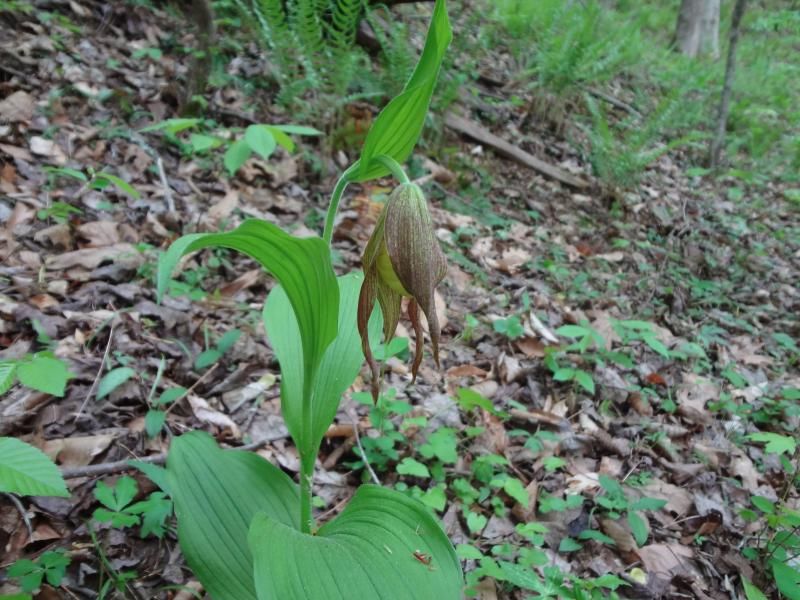 Once again, messing with my preconceived notions of native wildflowers, lady slipper orchids! About knee high and neon yellow!
Stupid camera could not figure out how to focus on them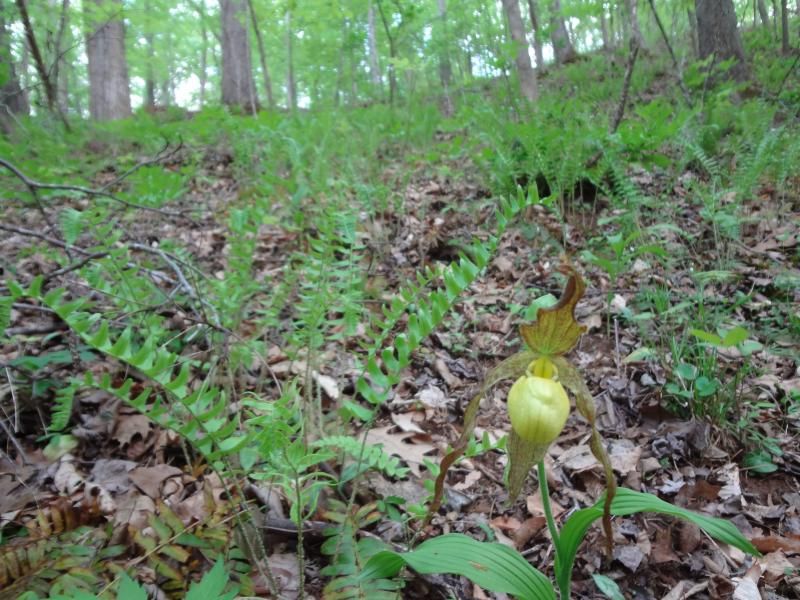 this turned out kinda cool though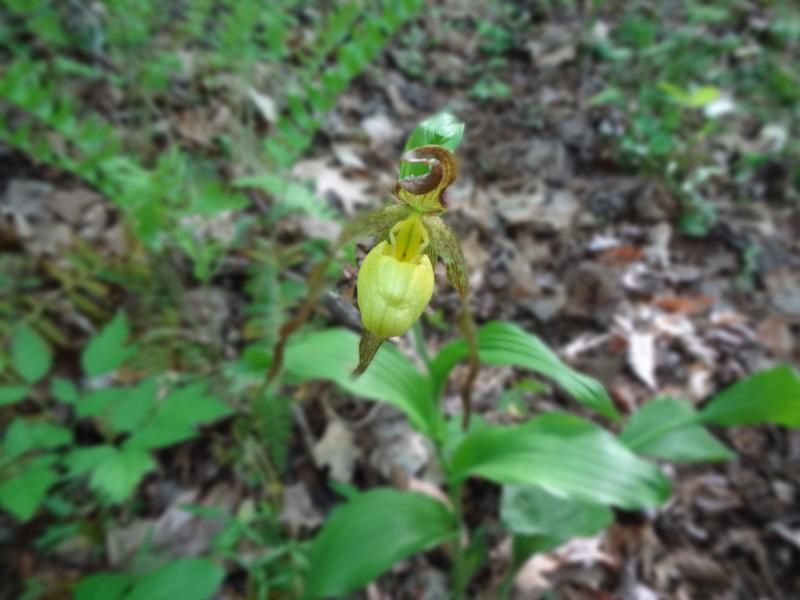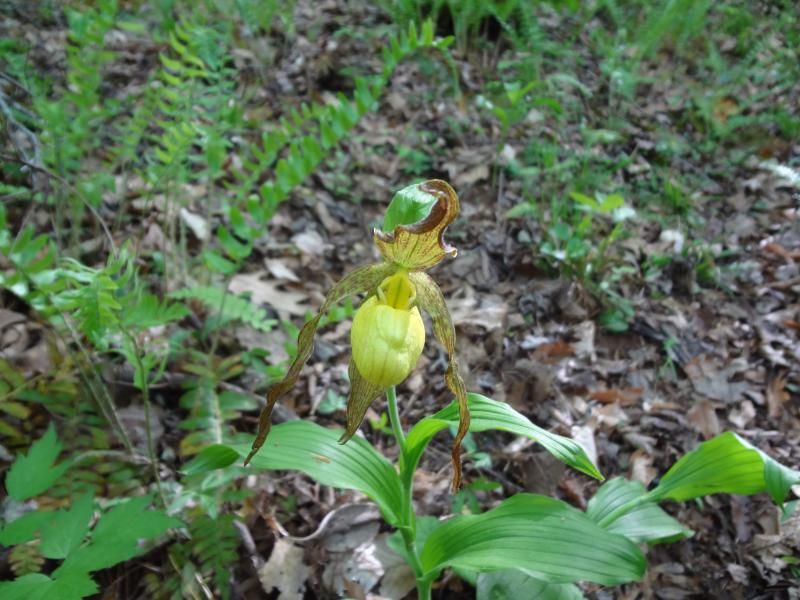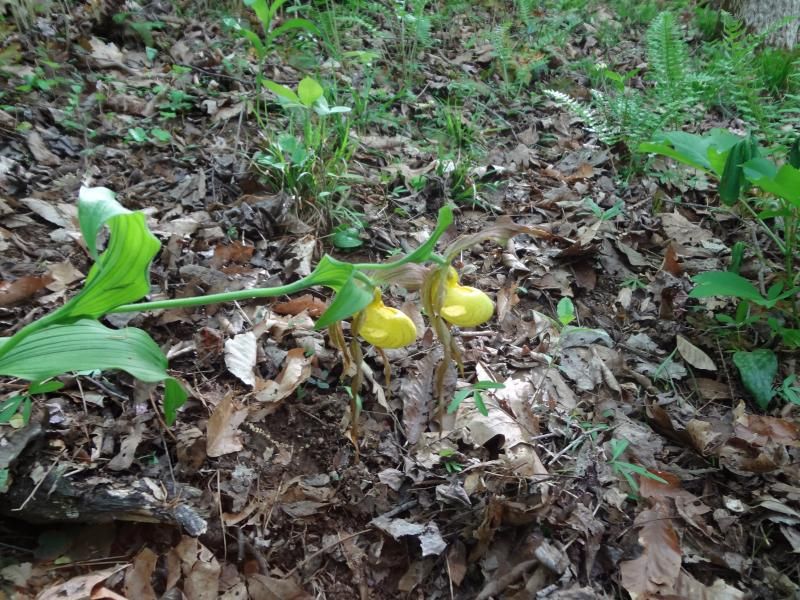 We had to regretfully tell the colony good bye, but more treasures lay ahead
Like an early-blooming trillium!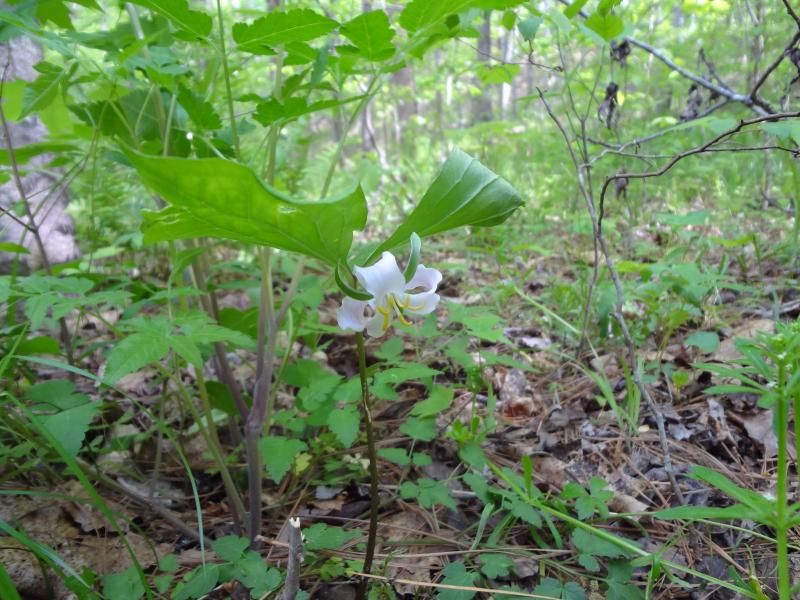 native geranium with a bonus insect: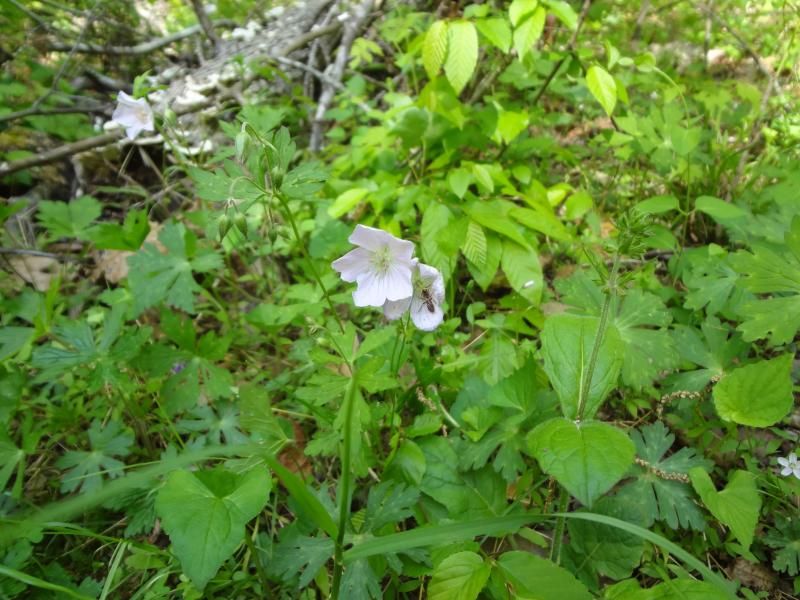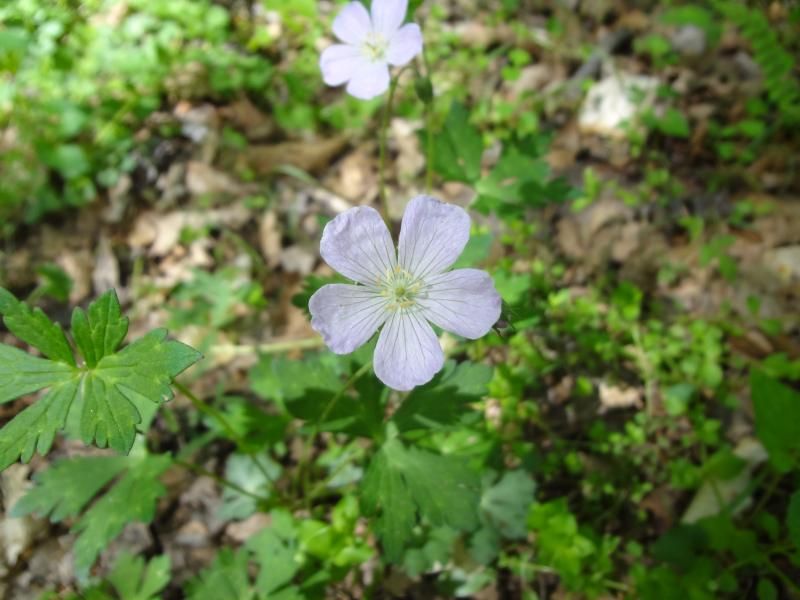 cool little violets with divided leaves: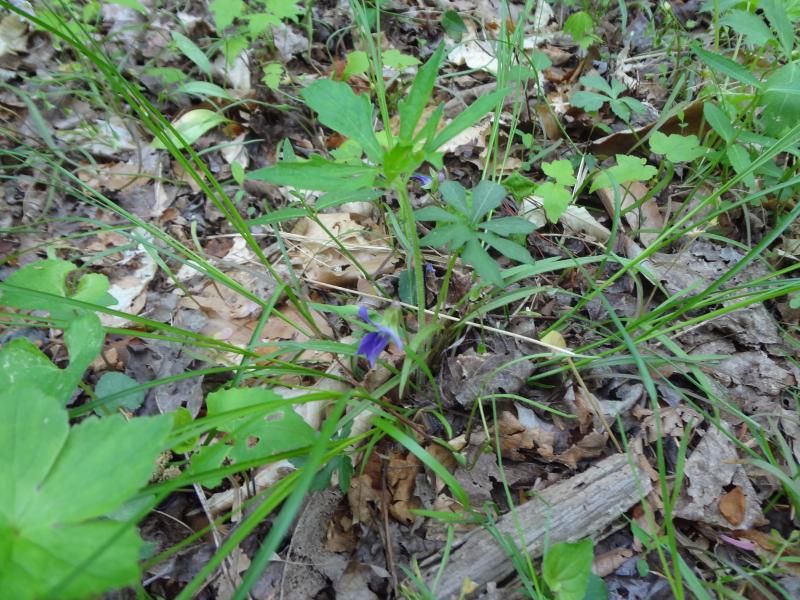 bellflower: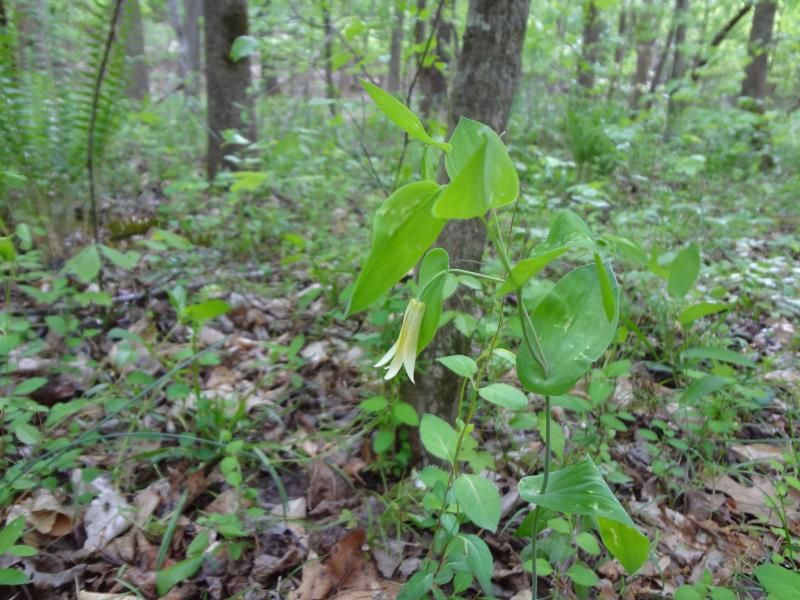 a native heuchera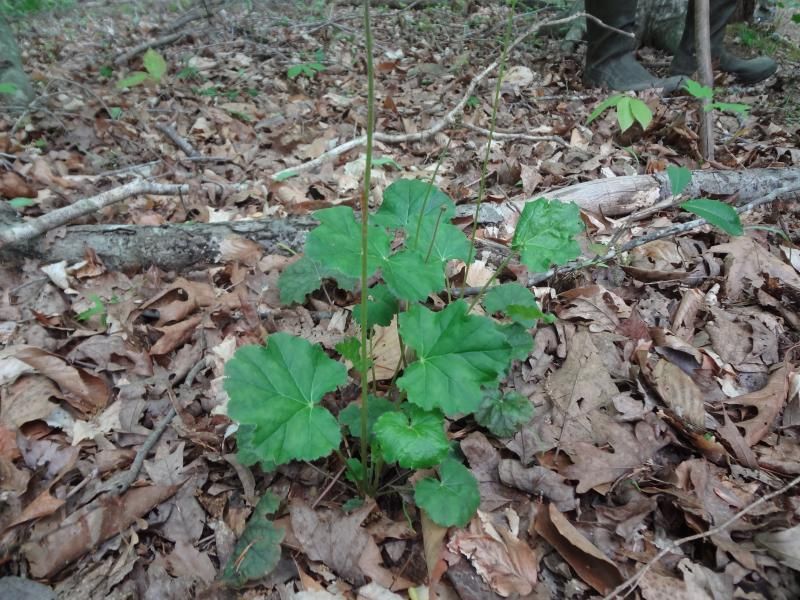 More horse chestnuts: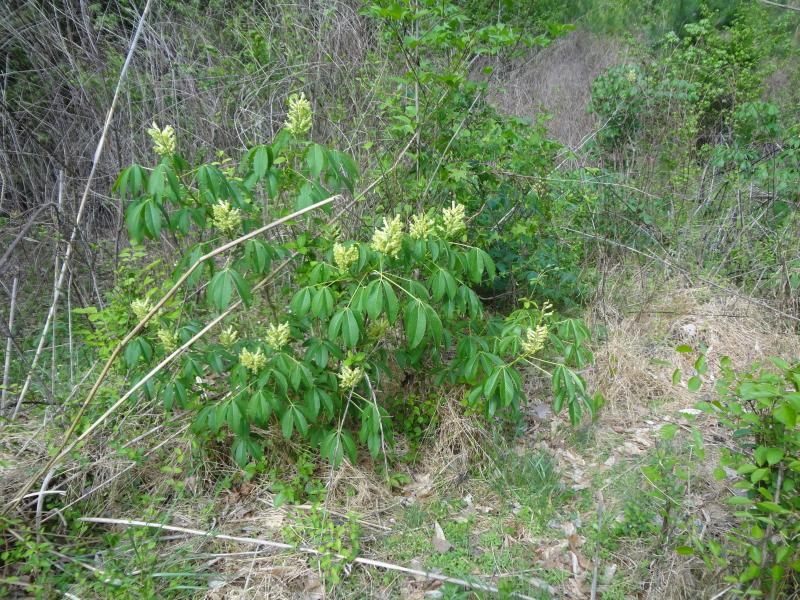 this attractive beech tree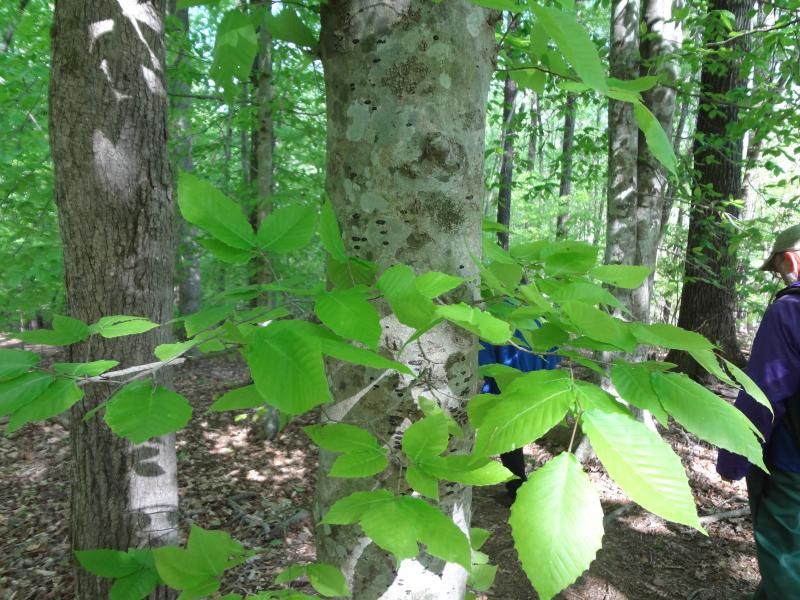 And back down to the road, which overlooks some really beautiful dogwoods and sycamores.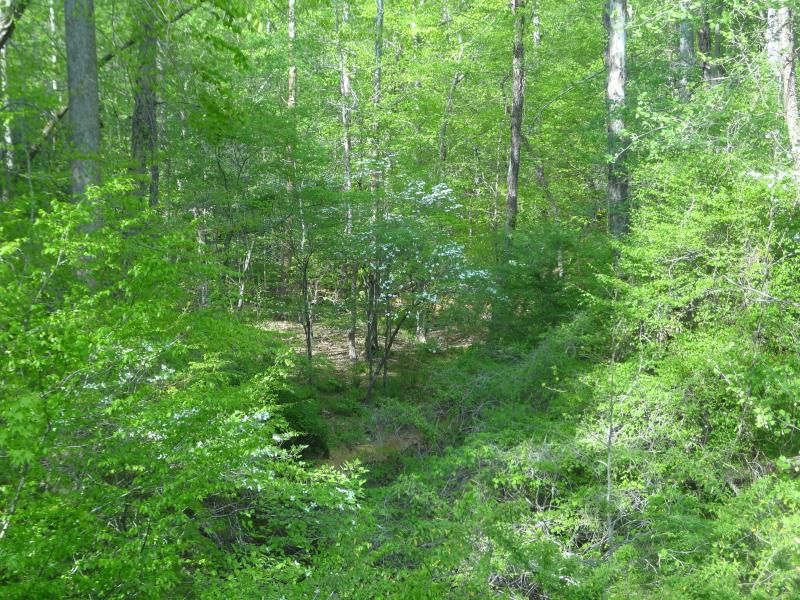 I went back out a few days later with my friend Rebecca so she could see all the cool things too, and alas did not bring my camera because we also found a colony of dwarf irises. We also saw 3 great blue herons and an owl (probably barred). I should probably mention that when I first saw the owl I said "WHAT IS THAT BIG THING THERE, A TURKEY?" I'm not used to owls just like hanging around on the forest floor, OK?
I went on a really amazing guided wildflower hike at Eno State Park last Sunday. I've never been to this particular park entrance which is strange because it's only a few miles from my house and has things that I like, like a river, attractive rocks, scenic ruins, and wildflowers.
Today I am drinking beer and making crafts.
I've been making paper crafts lately (I've carved some rubber stamps and done some collaging and made some little books). Looking at books about paper crafting was making me feel bad and I figured out why -- there seems to be a certain "look" that is very popular right now and that look involves sepia, rust, vintage graphics, and antique photos of sad-faced children. I don't really care for any of those things. Oh well. Here are some things I made today.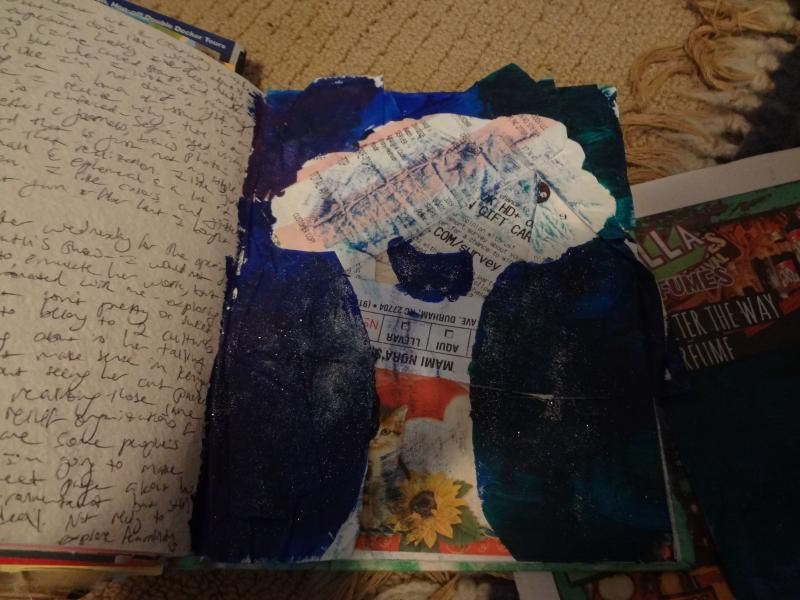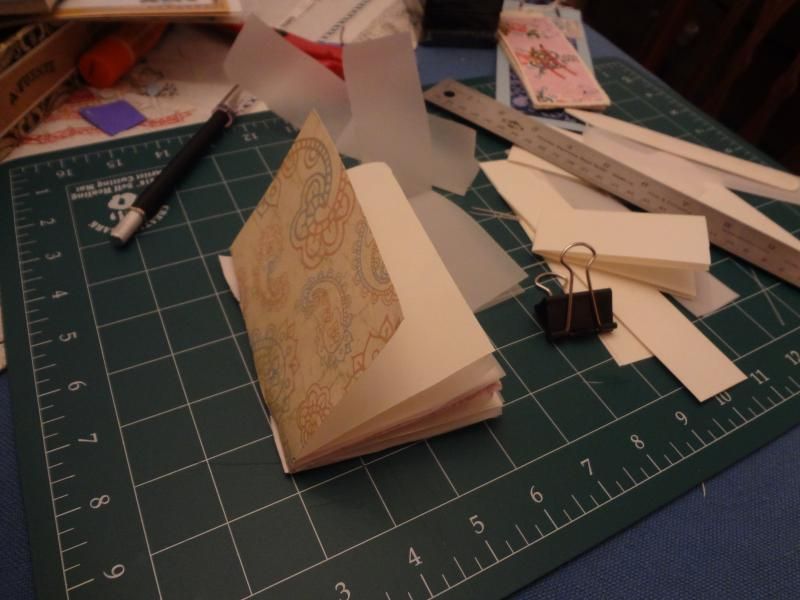 Also I finally finished my tea cozy and it is pretty cool but the photo makes it look like it's covered with crumbs which I suppose might actually be true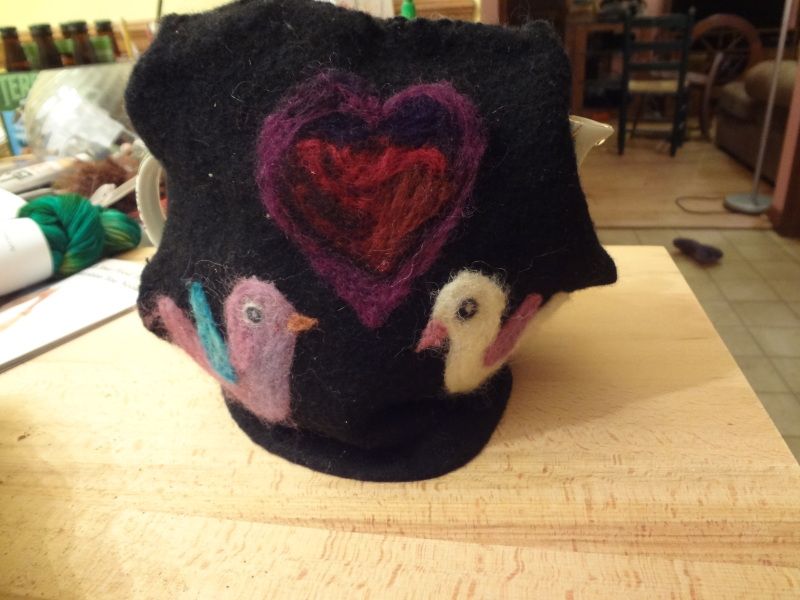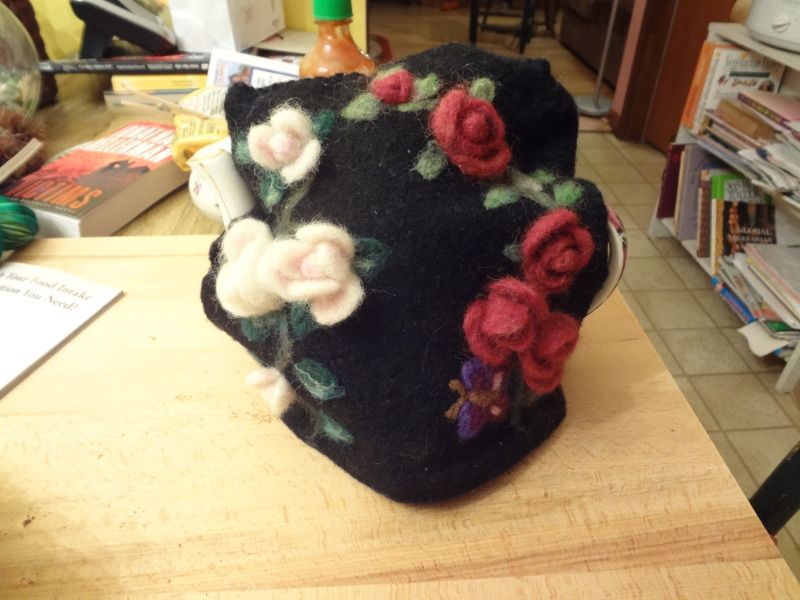 Also I made a pie but it was like 2 weeks ago but it tasted good even if my sister asked if the pudding came out of a box.
We've had sporadic internet access due to a crazy neighbor destroying the cable tap in his yard! But we seem to have it now.
I get super domestic on snow days! Plus, when it's cold, I don't mind standing over the stove at all. So here's what I've been up to:
So I'm still experimenting with things that use up eggs. We give a lot away, but I figure I should get some enjoyment out of them, too.
To give you an idea of the situation, here is the "after" picture of this past week's egg accumulation (after I used a bunch of them up, I mean):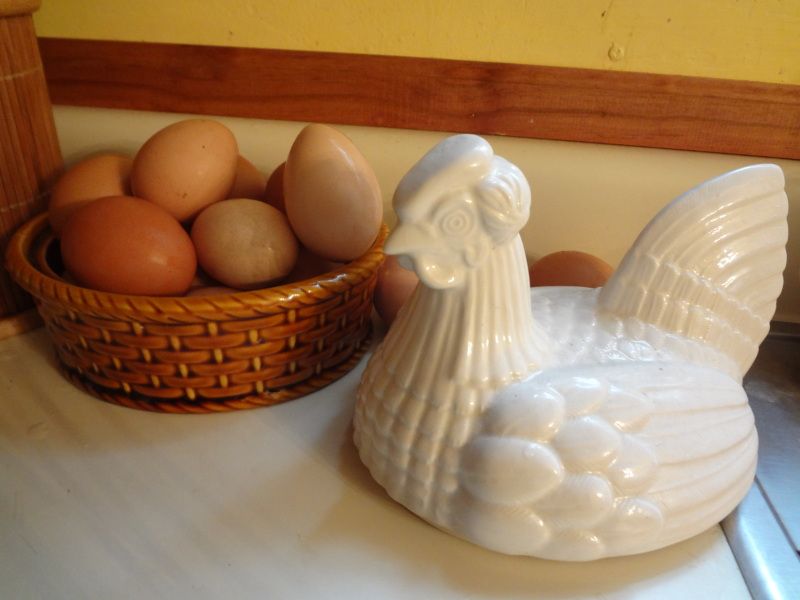 First up, a brioche! It looks kinda gross in this photo. It's delicious and buttery, though! Egg total: 4, including 1 that a little bit was used for glaze and the rest given to the dog.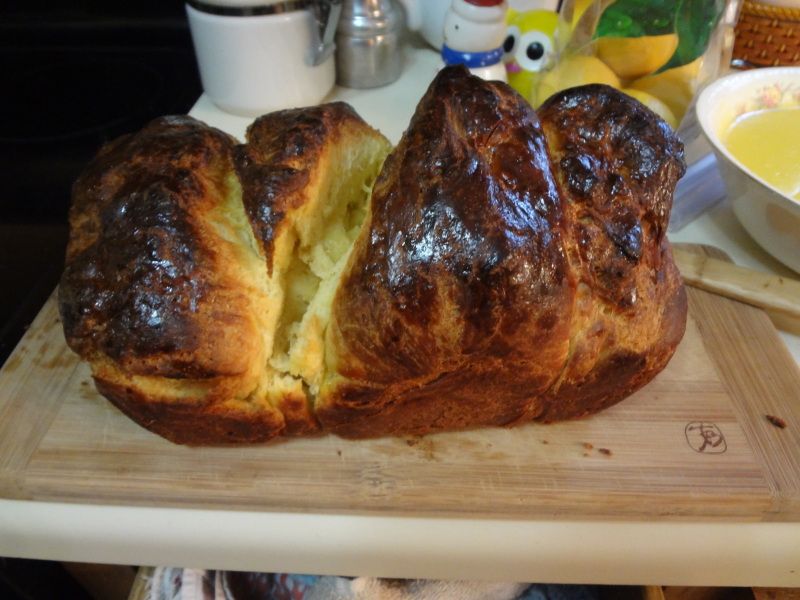 Next: Lemon curd! 6 eggs and a great deal of butter! Do you like how I staged the photo? Do you like the awesome depression glass lemon juicer I inherited from my grandmother? I like it a lot and the little lip inside catches the seeds really well. They should continue making lemon juicers like it.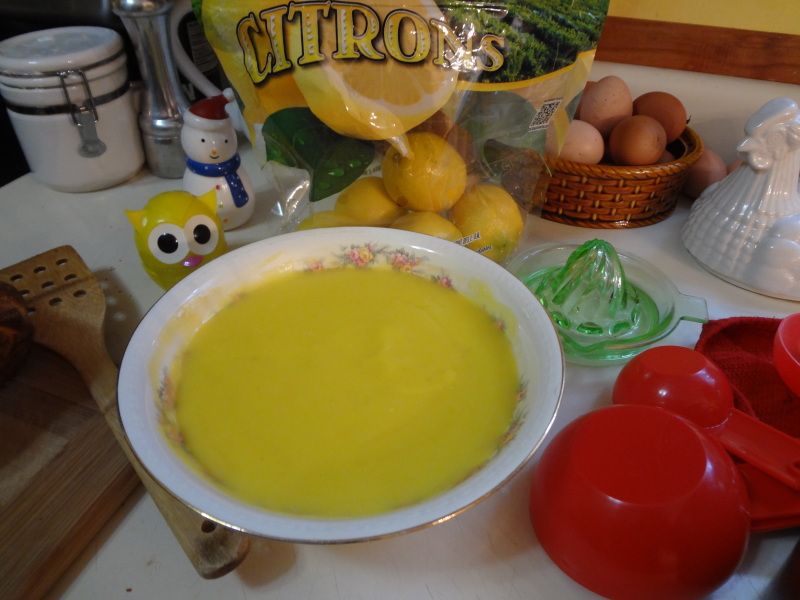 Challah dough that is rising (3 more eggs, plus will need another one for glaze as well):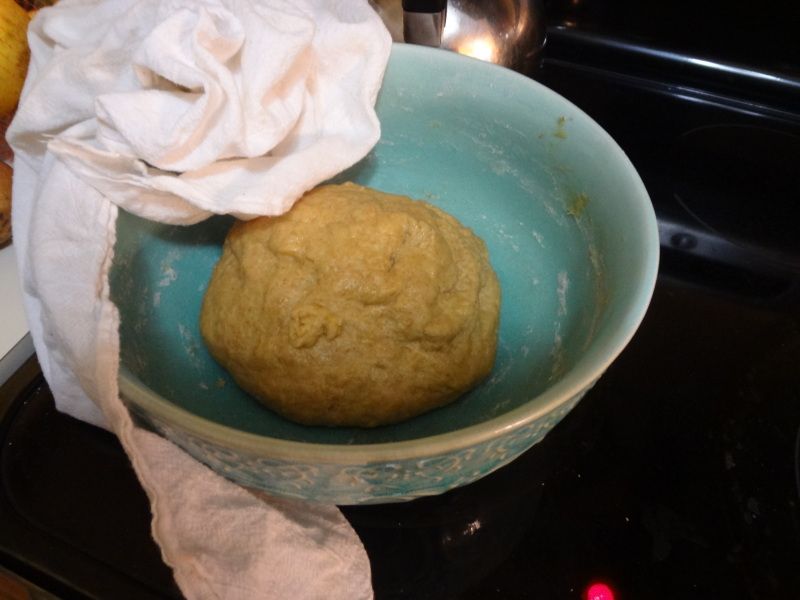 I'm noticing that there is a conflict between wanting to cook rich things but wanting to keep off the weight I've lost. I plan to take most of this to knitting group tomorrow, if the roads aren't frozen!
Finally, I am on a prize-winning roll! I won a skein of yarn from Keli at Sheep Dreamery!
(
http://www.etsy.com/shop/SheepDreamery
). You might think this is rigged, because of the nice review I gave her (I had that same question myself), but check out her podcast for proof she used a random number generator and everything:
http://sheepdreamery.com/2013/02/sheep-dreamery-videocast-14/
The yarn came with a little mini-skein friend and a delightful fun fur bonus because Keli is very funny.
I've been working on something entirely different this afternoon, and might share about that later, depending on how successful it is!
Well, not really, because it's not sticking, but it has been snowing all day! Big fluffy flakes that look very pretty.
Anyway, here is some cormo! I have spun Corriedale and Merino but the cormo, despite being a cross between the two, was very different. It has the springiness of Corriedale but the fineness of Merino and honestly was a rather challenging spin. It was very hard to draft because it wanted to either stretch out or puff up, and so the individual plies are rather uneven. It also clearly wished to be spun very fine. However, for whatever reason, I had made up my mind that I wanted to make a worsted-weight yarn out of it, so I decided to spin it as a 3 ply, so the plies could add their thicknesses together and to even out the uneven bits. I loved the roving very much, and I like the yarn very much, but it wasn't my favorite thing to spin. This is a fairly minimally processed roving from Lavender Hills Farm (
http://www.hampsteadfarmersmarket.com/vendors/item/lavender-hills-farm);
I bought it from them at SAFF and can't speak highly enough of them, they are really nice people and very generous -- supposedly I bought 3 ounces of wool but it turned out to be more like 4.5 ounces. I do also have 2 more ounces of more processed cormo from another vendor, and it'll be interesting to see how that spins up in comparison.
Here are the puffy puffy balls of roving! (The front 3 are from Lavender Hills and the back one is from some other vendor that I have no idea who it is, I thought it was Fluery Sheep and Wool but I said something about it to the owner and she said it wasn't her so I have no idea. SAFF is a little overstimulating, OK? Anyway, you can see the fibers in the back one are more aligned)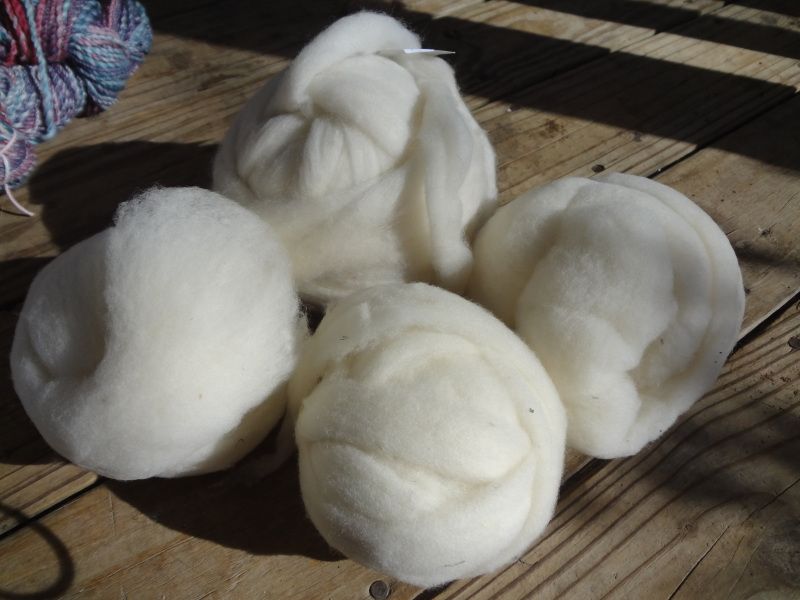 And here's the plied yarn. I have since finished it and thwacked it and it has bloomed very nicely.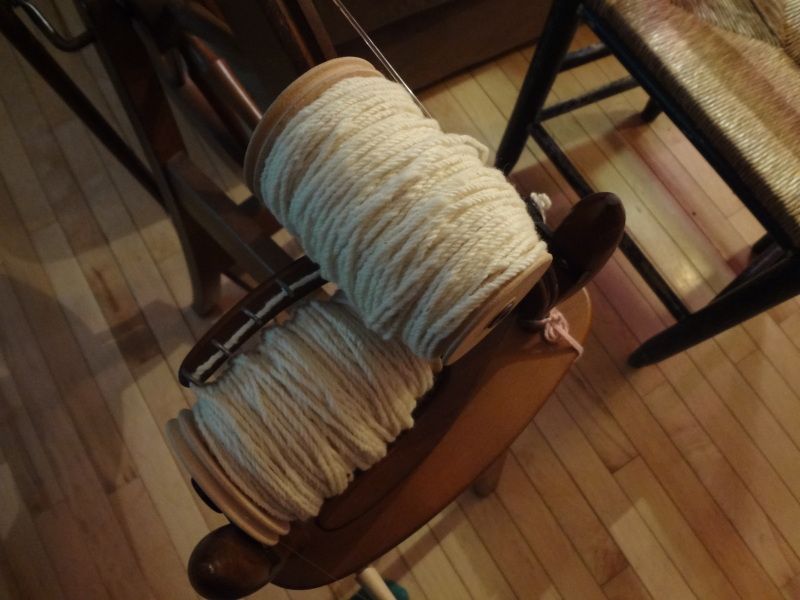 So something I am doing this year in a not terribly disciplined sort of way, is spinning new fibers that I haven't tried yet. Actually I guess I started that last year with the camel/silk. Whatever.
http://nirethak.livejournal.com/151901.html
I thought perhaps I ought to do a follow up, it's a little more than a year later, but so far 2013's been off to a rocky start.
Ugh, the lighting is terrible. Sorry about that.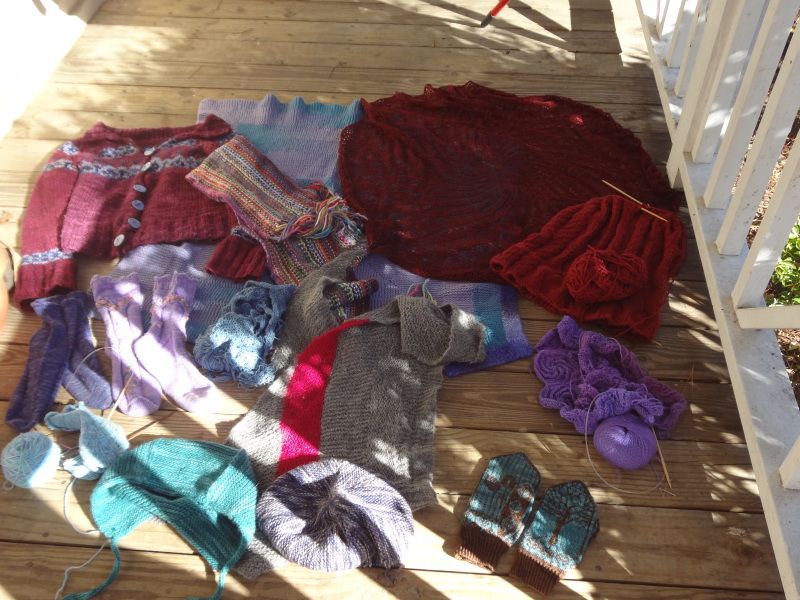 Top, from left to right:
Fair Isle sweater that took a long time because it was so annoying to knit: DONE. And one of my favorite sweaters! Except, the directions said to knit the collar for 7" and I was like "Pfft." and made it rather shorter, so it tends to flip up.
A very nice sofa blanket, DONE.
Queen Anne's Lace Shawl, I think one of the most beautiful things I've ever knit, in my opinion. DONE and proud of it!
Red cabled sweater -- not only NOT DONE, no progress made on it.
Next row!
OK, so I had a nice pair of purple socks but one got lost at the laundramat, never to return. So I got more yarn and made a new one, but the yarn was a different dye lot and I added a gusset, and it didn't match the original sock. So I just went ahead and made a whole new pair of socks. And I like them very much. DONE except I still have a lonely sock.
A very elaborate pair of socks with lace and twisted stitches and embroidery.
http://www.ravelry.com/patterns/library/bridge-of-roses
After finishing them I didn't think I would ever wear them because of all the work involved, but really, why not? So I do wear them. DONE.
A shawl I was test-crocheting for a friend, but she is going to revise the pattern substantially and frankly, I kind of suck at crochet, so I think I might rip it out and use the yarn for something else. NOT DONE, and might not ever get done.
A shawl I test knit for another friend! I got bored with the gray yarn so I put that random magenta stripe in it and it's kind of ugly, but I wear the shawl all the time anyway. DONE.
Swirl shawl: soooo boring to knit. Some progress has been made, but it's NOT DONE.
Bottom row!
Handwarmers -- I made up the pattern and need to figure out where I wrote it down so I can make the second one. NOT DONE
A silly hat -- DONE
A beret that is NOT DONE even though all it needs is a brim and really I need to get on that already.
Mittens that went through a great deal of sadness and strife but finally are finished and rather pretty, in my opinion. DONE.
Not shown but also completed: A pair of red socks that is in the laundry hamper, a purple hat that was sent to my Mother in Law, a scarf that I left at my office, and a felt snowman that was put away with the other Christmas decorations.
Even though I still have quite a few unfinished projects (including a few others I have started in the meantime, I do feel quite a sense of relief!
Remember this post? In which I collected all my unfinished knitting projects and put them out on my porch in a great Heap of Shame?